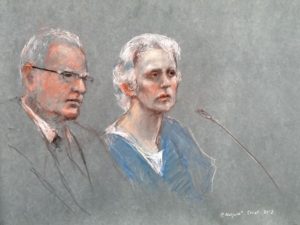 Paul Manafort. Lied to the federal prosecutors; lied to the federal grand jury about everything under the sun.
Judge Jackson said of Paul Manafort that he had used his many talents as a strategist to evade taxes, deceive banks, subvert lobbying laws and obstruct justice — all so he could sustain an "ostentatiously opulent" lifestyle with "more houses than a family can enjoy, more suits than one man can wear." That's even aside from the millions of dollars he was paid by Viktor Yanukovych the former president of Ukraine under the table to keep that Russian Stooge in office.
Judge Jackson said  "It is hard to overstate the number of lies and the amount of fraud and the amount of money involved. There is no question that this defendant knew better and he knew what he was doing."
Judge Ellis also sentenced Manafort in another court for bank fraud, stashing money in overseas banks and defrauding the IRS by making false claims on his tax statements every year from 2010 to 2014.
Judge Ellis gave Manfort a 47 month sentence; Judge Jackson gave him and addition 43 months. He is supposed to serve 90 months in prison but the odds are that Trump will pardon him for keeping his mouth shut. Judge Ellis said Manafort lived an otherwise blameless life and because of that gave him astoundingly low sentence compared to the court guidelines.
After each sentencing Manafort's lawyer came out of the court and pointed out there was no finding the Manafort colluded with Russia. He did not mention that issue was not before either judge. It is like the police are in the middle of that investigation of a guy who is suspected of having murdered his wife and the guy is before the court on a charge of operating to endanger. He gets convicted and his lawyer coming out to announce there was no finding by the court that the guy murdered his wife.
Manafort's lawyer was not speaking to all of us but to Trump. He was saying "look Donald, Paul kept his mouth shut about that collusion stuff, so you know what you have to do now."
I'm predicting, and you know how good I am at that having predicted on Monday the Boeing aircraft would be grounded, that before the Ides of April Trump will pardon Manafort. He'll use as the grounds that the Special Counsel Mueller was supposed to investigate collusion with Russia and two judges said he didn't find it therefore his sentence on other crimes is unjust.
Catherine Greig lied to the federal probation officer about some of her assets. Unlike Paul Manafort she really did live a blameless life. She had no criminal record at the time of her arrest. The crime charged against her involved no violence. It was that she aiding James Whitey Bulger while he was a fugitive for 16 years. Her aid was living with him as his girl friend and doing what a girlfriend does who lives with a guy. There never was any showing that she knew of Bulger's murders — not that anyone else did except Whitey and his close associates like Flemmi, Weeks and Nee – – at the time she went away with him.
Paul Manafort's federal sentencing guidelines suggested he do over 22 years in jail. His sentence was 18 years less than the guidelines or about one-fifth of them. Catherine Greig's guidelines were for about 24 months. Her sentence was  for 96 months almost four times the guidelines. Not content with that the prosecutors brought her back before a grand jury to attempt to elicit from her what she and Bulger did while on the lam. Was this motivated by prurient interests? She clammed up and got another 21 months or a total of 117 months in prison.
Manafort will be walking a free man soon despite all his crimes. Greig will wrap up her time in another 18 months. She will always hold the distinct record of having done the longest time in the history of America in federal prison for a person without a record, a first offender, who did not commit a violent crime or a drug related crime. It's not a record she wanted to hold but it was unfairly thrust upon her by vindictive prosecutors and tainted judges who fell for the Whitey Bulger myth.