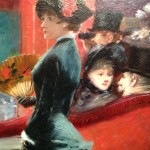 On long weekends the interest in Whitey Bulger declines and we all go about dealing with things that demand attention and that we can't get to during the work week. When I was discussing with a friend some of the things we used to do in the 1980s I was reminded that I was talking about "ancient history," something this friend thought had no relevance to our present time even though I did.
When we read about Whitey we hear of things he did in his boyhood (70+ years ago) or in prison (he got out 48 years ago, the same time David Margolis joined the Justice Department – I wonder if he is part of the FBI team investigating Ibragim Todashev) or even back to the last alleged murder which happened 28 years ago. Is this too ancient history and of no importance?
I think not. Whitey's case is relevant today as spring-board to understanding the past and to where we stand today. I've used it to examine and take a hard look at our criminal justice system, the FBI, the Justice Department and our government in general. There is much going on that most prefer not to see but they ignore these happenings at the jeopardy to ourselves and those who come after us.
I am able to do this because of the Internet. The internet as it slowly expanded into a tool for the general public has truly brought about a new age. It is a threat to every authority that would abuse its power. It allows people to speak out on topics freely and others to hear opinions that are not filtered through media interests that have hidden agendas. It escapes the control of the normal news channels run by those whose motives are often not known.
Traditionally mainstream media decided what we should know about and how much of it we should know. For example, it could decide that when people were dying from a forced famine in Ukraine that we'd read only wonderful things about Uncle Joe Stalin. Or, that the terrorist attack on Lee Rigby the other day be practically ignored except by Kevin Cullen in the Globe who gave it a passing reference.
I've been able to point out that many of the things we have been told and continue to be told about Whitey Bulger and those around him are plainly wrong.  Think of how this would not be possible prior to the Internet. I could have written to newspapers setting out my thoughts but those would be filtered by strangers. I could have written books but those too are subject to another's decision as to whether to publish them. My thoughts would have been known only to myself and those around me. With the Internet that is no longer the case
The traditional media finds the Internet to be bothersome. Its members argue that too many people can say things without having them edited or checked for accuracy. But as we've seen that process as used by the media does not guarantee the truth. Look at all the false information that came out in the days after the Marathon Terrorist Attack. Look at all the false information coming out concerning the killing of Todashev from all these inside sources that are as accurate as people forecasting the weather. Consider all the questions that remain today about those incidents that the mainstream media has no interest in seeking answers to.
Where the traditional media errs is in not recognizing that the veracity of those who write on the Internet can be quickly checked by going back over their prior writings and by looking at the source material that is used. Any assertion can be quickly checked not only against present day happenings but also against historical records.
What I find most amazing about the Internet is that it is in its nascent stages. Who can imagine what it will become as it grows out of its childhood. I'd guess within a very short time you'll be able to read almost any article no matter in what language it is written; or, a few years after that, when travelling, you'll be able to speak in English with people in any country in the world and your words will be delivered to them immediately in their own language. I wonder as these barriers come down will that bring us into a more peaceful era.
At one time it was thought best that people be kept ignorant. The last great revolution prior to the Internet was the invention of the printing press that allowed information to be spread more widely. Without that it is fair to say we would not know Thomas Paine nor there have been an American Revolution.
Eric Hoffer has told us that the worst thing those in power can do is to allow someone to recognize that her life can be better. Once that is done she will never be content with the life she has. The Internet has given us the chance to see things can be made better. That's why it is a great threat to those in power.