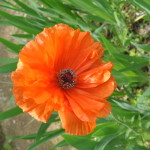 The trial being over it is time to move on from the trial issues, events and evidence. I may  to go back to them from time to time but I learned as a young boy when I'd gawk at the dead horse lying in the street outside my home on O'Callaghan Way and the peddler's wagon sitting horseless in the middle of the street that you can't beat a dead horse and expect it to get back on its feet.
I expect now that the trial is over we'll see a plethora of new books about Whitey and perhaps a movie or two equally as dreadful as The Departed which more than any film in recent history showed the bankruptcy of Hollywood by winning the Academy Award for best picture of the year.
If what's in the future tracks the way the stories have been written to date then expect more of the superficial analysis that tells us some strange soap opera type stories of Whitey and his companions with a little sprinkling of Billy to spice it up. This will happen because these authors will be writing from within the approved context that has been developed over the years which pretty much boils down to the Tale of Two Southie Men, Whitey and John Connolly, and the gangster people they surrounded themselves with. That type of comfortable scenario makes all happy since it fulfills the conditions that my wife has for seeing a movie that it must have a happy ending.
These authors will tell us of this evil twosome and tell us how justice is served when these two products of South Boston will end their earthly existence behind bars. What all these authors will be unable to tell us, and what most of them have no idea about, is the full story. Perhaps that's because few really have a sense of the case other than what was brought out at the trial. Most are tethered to the fictitious account previously established by willful writers who twisted matters to meet the predetermined agenda.
How many can honestly say Whitey was worse than John Martorano, Steve Flemmi, or Frank Salemme, government witnesses? How many will examine the many different roads, actually more than those leading to the Arch de Triomph, that follow just from these three facts: the alleged informant status of Whitey, the alleged corruption of John Connolly; and the alleged unreliability if not falsity of the reports in the FBI files.
How many of them will include within their stories the part J. Edgar Hoover played in creating the culture that let this extensive criminality spread?  Will any see that the John Naimovich story ties into the Whitey Bulger story and tells us of the environment that existed throughout the law enforcement community in Boston during those years?  How many will wonder at the lack of law enforcement action to all the murders that had been committed by these gangsters? What about the inimical obsession of the Boston Globe writers, Howie Carr of the Boston Herald, others in Boston's mainstream media and the Department of Justice which poisoned the public against Billy Bulger by constantly bringing him into these matters? How is it he was supposed to know of Whitey's murderous ways when no one else seemed to know of them until long after Whitey had fled?
Will any wonder at the sentence of Catherine Greig a woman without a criminal record to eight years in prison based on the idea she went off with a man accused of 19 murders when at the time she fled he had not been accused of any? Will they wonder why a woman in the same situation who was living with a man who committed 20 murders and murdered people while living with her was never charged with any offense?
Are there any that will wonder why the FBI has a system in place that any inquiry into the activities of one of their informants goes to the handler of that informant? Or why FBI agents at the brick level are afraid of reporting in-house offenses committed by other agents to their superiors for fear they will suffer? Will any wonder how it is that two top criminals both became informants of the same FBI agent, in other words, how did they tell each other that they were both rats, that is if they did.
It is important to understand that except for one or two things, the trial of Whitey Bulger brought out very little that was new.  Those things probably weren't picked up by those unable to understand all that occurred and is still occurring that allowed a situation like that of Whitey's to exist. I mentioned Todashev in Orlando, the Marathon Terrorist Attack, and the Marc Rossetti matters that tell us what our FBI is about.
Without the FBI there is no Whitey; without the FBI many people now dead would be alive. How many writers will tell us that?  Without the FBI culture there would have been no John Connolly the protector?
How many of these writers will tell us that it is not through the FBI that criminals learn things but through their street knowledge. Ask any of those at the top, survival in the underworld requires a constant alertness as to who is doing what. Weeks would tell how a an automobile in the neighborhood that passed a location twice would be picked up as being cops on surveillance. Everything was done in a protective mode. Top gangsters have ten times the amount of informants as any FBI office. We learned this from what the criminals told us on the stand or what common sense shouts out at us.
How many will figure out that it would have been easy for Whitey to claim he (or Flemmi) were giving information to O'Sullivan against the Mafia and that was why O'Sullivan gave him immunity? He didn't do that but made an outlier claim that O'Sullivan wanted a guarantee for his and his family's personal safety and in exchange for that he would protect him against being prosecuted for any of his actions. He did that knowing there was little evidence that would support him yet the happenings in the Naimovich case known to only a few persons can only but lead to that conclusion that O'Sullivan was hell-bent on protecting Whitey as shown by the extraordinary efforts he took in that matter.
What I'm suggesting is that it is time to move on from the trial and the matters surrounding it into a study of the things that brought about the Whitey Bulger era.
I'll continue this blog but the Whitey aspects will fade but the issues which those raised will remain relevant. Matters affecting our civil rights and the antiquated Massachusetts criminal justice that gives us cases such as those of Amy Lord and Jennifer Martel need to be addressed. So will any topic of general interest that stem from these areas.