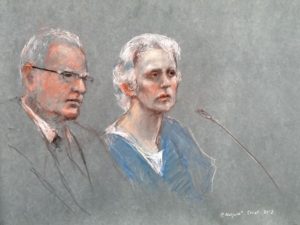 Whitey's gone. He even got a Christian burial. Thanks to the Boston Globe we know where he was buried. I guess they're hoping by giving the information about his grave site,that was totally unnecessary, they can inspire some Mafia-wannabe to go after the title of "The Man Who Defaced Whitey's Tombstone."
We already got a couple of that type sitting in isolation believing they have crowned themselves with honor as the "Men Who Murdered Whitey Bulger" although l'd guess little credit will accrue to them for having set upon an unarmed 89-year-old man confined to a wheelchair unable to defend himself. At least Liberty Valance (Lee Marvin) was armed when he was shot. If there's any justice in the world those guys who murdered Whitey should spend the rest of their lives the Supermax ADX Florence in Florence, Colorado. They'll be in good company with a couple of other cowards, Ted Kaczinski, who liked to send bombs through the mail, and Dzhokhar Tsarnaev, who planted one behind spectators peacefully watching a marathon.
Speaking of justice, it must be obvious to Boston Federal Prosecutor Freddy Wyshak that his theory behind the prosecution of Whitey Bulger was bankrupt. It should be perfectly clear to him that his brother Bill had nothing to do with any of Whitey's criminal exploits. Ab inititio his theory which found its origin in certain writers for the Boston Globe never held water.  All he had to do was ask and he would have learned that state law enforcement, the people who were chasing after Whitey, never even considered for a moment that Bill was his brother. The false propaganda by Herald writer Carr and the Harvard law professor and his crew that somehow Bill's position as Senate president intimidated state law enforcement motivated Wyshak into suggesting that Retired FBI Agent John Connolly went wrong because of his association "with the Bulgers."
Wyshak should have also known from his own work that the idea was false. He paraded before himself countless numbers of criminals offering deals beyond imagination for someone who could give him something on Bill. He could offer them the world but as much as they coveted the offer they had nothing to give. Bill was clean, that couldn't be said of others who fixated on him.
Now it is up to Wyshak to bring an end to the suffering caused by his wrongful thinking. There is one person in particular in prison because of his, I'll use the term Whitey used when referring to the Norfolk DA's office where I worked, vendetta. (From the Italian vendetta "a feud, blood feud."). She is Catherine Greig.
Greig was the woman who fell in love with Whitey. She accompanied him on his 16 year escapade while he avoided answering to an indictment for racketeering that said nothing about murders. When she left in early 1995 there had never been any evidence, none, that she knew Whitey had murdered anyone or did anyone else know he did other than those who might have been with him. When and if she learned about it, if at any time while Whitey was on the lam, is not known. Even if she learned of the murder allegations against him there is no showing she believed them.
She was captured along with Whitey. She had no criminal record. She pleaded guilty to aiding and abetting Whitey's flight and some other minor non-violent acts. She then was subject to a real Wyshak show. He paraded in alleged victims to air their grievances against her. She suffered the indignity of having members of the family of victims of Whitey come into court and castigate her even though she had noting to do with their problems.
She received the most draconian sentence of any woman in America who was a first offender for a non violent, non drug related crime by a multiple of three. Ten years in prison for being with a man running from justice. Never in American annals of criminal law had any woman been so punished. In fact, a woman did exactly what Greig did, spending 16 years with a criminal worse than Whitey, John Martorano, who was also hiding from an indictment, was not even charged.
That was not enough for Wyshak. He piled on. Imagine the cruelty of Wyshak thinking a woman who loved a man should be forced into testifying against him. She refused to  answer his questions about their life together before a grand jury. As the judge informed her, she made herself liable to go to prison for life. He added some more years to her already absurd sentence.
Her case shows the federal judiciary at its most obtuse and cruel. Her case showed how the federal judiciary got suckered into believing the false Whitey saga. Whitey's crimes paled in comparison to those of others who that judiciary all but let walk.
Greig was punished for falling in love with a guy. It was never shown she knew or believed he committed any of the crimes alleged against him. Her love has now been murdered in prison. Time to have a heart. Time to let the blood feud go. Time to let her go home to her family and friends. How about it, Freddy?