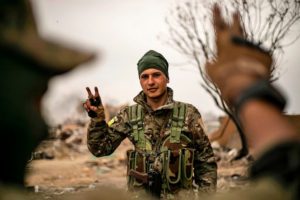 The Washington Post editorial board on March 25, 2019, at 7:30 p.m. posted an opinion titled, "What the U.S. can learn from the fight against the Islamic State."
Unfortunately the lesson it tells us we should learn is all wrong. To cut to the core it is that the United States should not get into any wars unless we have other people on the ground willing to fight and die in it. We should not get into any wars where American ground forces will be casualties. If that is the lesson we should learn, why do we have an Army and a Marine Corps. Aren't they supposed to do any fighting on our behalf any more?
We are told that ISIS was "a self-declared caliphate that once controlled a territory the size of Britain and ruled over as many as 12 million people."  That the fight against ISIS was conducted differently from "troop-heavy wars in Iraq and Afghanistan."  It would be fought by the U.S.  partnering "with local forces that would take the lead on the ground, . . . American troops in Iraq and Syria, mostly Special Operations forces and trainers, numbered in the single-digit thousands."
That is a clumsy comparison. Prior to our wars in Iraq or Afghanistan the idea that we could partner with local forces on the ground who would take the lead in doing the fighting was a non starter. In Iraq there were none; in Afghanistan the special forces did partner with foes of the Taliban but the heavy presence of U.S. troops allowed them to succeed as well as they did.
The war against ISIS was not against an organized state but an insurgency that threatened organized states or ethnic groups such as the Kurds. In that circumstance we could get local help. With the ground forces we used our air power to assist them. ISIS had no air force or for any practical purposes air defenses. Keep in mind that no U.S. armed force member has been killed by a foreign enemy air power since the Korean War. We have not been contested in the air in all our recent wars. When we are, much of what we think we have learned can be thrown out the window.
The article notes that our Kurdish allies on the ground had 11,000 of its fighters killed; the Iraqi's fighting with us lost at least as many. "U.S. losses, in contrast, were remarkably light: Sixteen soldiers and one civilian were killed in action over the past 4½ years, and 58 other "non-hostile" fatalities were associated with the mission."
The Post concludes we learned two lessons. The first lesson is: "the United States is capable of leading effective foreign counterterrorism campaigns, provided it partners with local forces and focuses on supplying unique U.S. assets, such as intelligence and precision airstrikes."  How is that a learned lesson. It is obvious. If you can get other people to fight and die for you then you will suffer fewer losses yourself. The real lesson that it taught is something we have always known which is that those who do the fighting on the ground are going to suffer greatly. If we take from it that the United States should avoid ground combat totally then we are learning the wrong lesson. There are times when it will be necessary.
The other lesson the Post tells us we should learn is "the costs of playing such a role are far less, in the long run, than withdrawing and allowing terrorist groups to rebuild." It decided this because the ISIS war cost $28,5 billion compared to the $1.5 trillion for the ground wars in Iraq and Afghanistan. But as noted above unless the $1.5 trillion  was spent initially there would be no getting on to the latter amount. I fail to see how the ISIS win taught us something that is obviously to all but the dumbest person: a full-scale invasion of a country would be more costly than fighting an insurgency.
Unfortunately there is no lesson to learn from having taken from ISIS all the land under its control. We already knew what the Washington Post said we supposedly learned. What I do hope is that we don't think we learned something new and believe we can apply that to Iran.