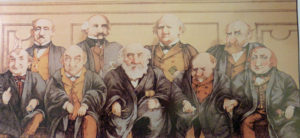 Brett Kavanaugh seemed to have sailed over the low hurdles that faced him on the track as he raced to his appointment as an associate justice on the United States Supreme Court as he entered the final turn. Then, instead of seeing another low hurdle like the ones he had easily passed, he faced a high hurdle that had suddenly been put out just before the finish line. As we watched we wondered whether he had ever jumped over such a high hurdle before for as all know there are different techniques in handling the different heights.
This high hurdle goes by the name of Christine Blasey Ford,  a clinical psychology professor at Palo Alto University in California. She told about when she was a 15-year-old high school student a drunken Kavanaugh who was 17-years-old attacked her: ""I thought he might inadvertently kill me. He was trying to attack me and remove my clothing."  She talked about the situation which the Washington Post noted: "While his friend watched, she said, Kavanaugh pinned her to a bed on her back and groped her over her clothes, grinding his body against hers and clumsily attempting to pull off her one-piece bathing suit and the clothing she wore over it. When she tried to scream, she said, he put his hand over her mouth." She tells how the two boys were laughing  and that she was able to get free when the other boy jumped on top of the bed and they rolled off.
She'd tell others it took her four to five years to recover from the incident. She would disclose it to her therapist back in 2012 and had mentioned it to her husband even earlier than that.
It seems the first question that arises is whether you believe this happened.
If you say no, then you must explain what caused her to come forward with the allegation back in July. Here is her letter to Senator Diane Feinstein. She sought it to remain confidential and her identity not to be disclosed. You have to explain why she would have such a thorough explanation of the event and include the name of the other boy who was a witness to it. You have to explain that if it was fabricated why would she not make it more sensational and leave out the witness.
If you believe her, you must first face the statement by Kavanaugh which he said: : "I categorically and unequivocally deny this allegation. I did not do this back in high school or at any time." If you believe Professor Ford then you must believe Kavanaugh lied when he said he did not do what she alleged; or, that he was so drunk that he does not remember what he did. If he lied, then are you still okay with him being on the Supreme Court?
If you believe he did not remember the incident then you have to ask whether it having happened thirty years ago is something that should disqualify him from being a Supreme Court justice.
The Republicans have brought forth testimonials from hundreds of women who say Kavanaugh is a good guy and in their opinion could not have done that. They are really worthless considering the discreteness of the event. An equal number of people could have come forward telling how Speaker Dennis Hastert was an upright citizen.
Do you excuse the behavior because of his youth? Is it just some juvenile frolic that should not be considered? Is it something all teenage boys did or is a teenager attacking a girl like alleged something that is so abnormal even drunkenness doesn't excuse it? Does intoxication become a factor? In determining some issues in the law with respect to intent or determining whether a confession was voluntary it may be relevant? Should that weigh into any decision? Is one to be held back by an act committed once in a state of drunkenness 30 years ago?
There are many questions to ponder. The senators on the committee should answer them. It may be very difficult calling Professor Smith a liar. If they don't, what excuse will they offer for voting for his nomination.
Yet it seems to me that the biggest question of all for the senators to answer is if they believe Professor Ford and they forgive Kavanaugh for his trespass, for whatever reason they decide, is it appropriate or wise rewarding him with a seat on the Supreme Court of the land. What will it do to the Court's reputation?