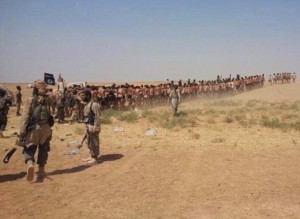 You have to know they are coming. IS and other Jihadist groups like al Qaeda aren't completely full of dummies who have yet to figure out that we are in their lands killing them while we sit back here in the USA untouched. We've been lucky. Our wars against the terrorists have been fought on our terms and on their territories.
At home we have had peace from foreign interventions with minor exceptions since 1812, over 200 years. We had two major attacks by foreigners on us during that time, both were one-offs, a day of attack and that was it.  During the latter part of the 19th Century and early 20th Century certain foreign anarchists entered America and set off bombs. Outside of that we have known peace at home while we war in the lands of other people. Imagine that, in this time when international travel and communications are so easy we are still free from foreign attacks.
Lately we have seen the FBI arrest home-grown terrorists. Usually they a knuckleheads who get caught up by dealing with FBI informants who provide them with the plan, the weapons and then set them up to be caught. It makes for good headlines which the FBI covets but those are not the type of people who are going to cause us any great harm. Most had no chance of ever being able to acquire the weapons or explosives to act on their evil intents.
The FBI is so dependent on informants it is pretty much out of the game as is shown in the Tsarnaev case where it should have acted with more diligence before the Marathon bombing. We have yet to see the FBI catch the 9/11 type terrorists. Those are foreigners who all know each other before they come to the country and when they arrive keep away from others.
I'd suggest you think of this basic tenet: no real terrorist of the type we have to fear would introduce anyone into his planning who he had not had a long-term relationship with. The FBI's idea of relying on informants will not work against the real threats to America. Every time I see one of the arrests it is making which is based on gaining information from informants I shiver knowing like with its Top Echelon Informant program it just has no idea what it is doing, is wasting its efforts, and does not have its eye on the real problem.
Noted terrorist scare monger expert U.S. Representative Peter King (R-NY) a member of the Homeland Security Committee recently told a group of college kid: "Several hundred Americans have joined the fight alongside ISIS [as well as a large number of Europeans who are] trained, they're deadly, they're vicious." The American numbers are exaggerated but for the most part he is right. He then talks about them getting a "dirty bomb"
Dirty bombs don't exist. If they did it is doubtful any could cause significant harm. That Rep. King talks about them as a danger does show that those in charge of protecting us are looking in the wrong direction. The terrorist who come do not need dirty bombs to cause havoc in our country.
Do you remember the terror caused by the Washington D.C. sniper attacks that were carried on by two people who were drifters, one being 17-years-old? Schools were closed, outdoor activities stopped or curtailed, traffic was blocked by police roadblocks, people driving white vans were stopped and search, and a great fear spread among the American people living in the greater D.C. area.
Imagine what will happen when the attacks are carried out by professional, heartless killers like those who belong to the Islamic States. Tomorrow, in part two I'll tell you how it will come about.