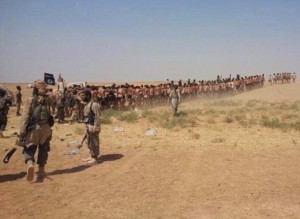 Here's how the next attacks will come.  They will be by Islamic men from various countries who will have established a strong relationship among themselves overseas. They will have trained as members of a cell. They will have in each cell at least one man taught in the use of explosives, one man who speaks English, and men who are not Arabs. Each man with a specialty will have a back-up person known to the others. They will know like Timothy McVeigh or Tamerlan Tsarnaev how to easily acquire material that can be used as explosives.
They will be, or already have been, put into the United States over our porous borders. If all of one cell does not make it then an alternative will be sent in. No cells will use electronic communications nor will any cell communicate with each other. Once several cells are established near major cities a mechanism will have been established known only to the cell leader or his alternative for keeping in touch with his home contact. Each home contact will have responsibility for one cell and would set up a unique way of communicating with it. The home contact would be in contact with the headquarters group.
Most of these men will not be suicide bombers but in a cell there may be one or two. The majority will be trained in the art of placing a bomb in a crowded place and fleeing immediately from the area to pre-established safe houses. All the video cameras which may show their activities will be useless since they will be disguised and not known to members of the public.
Each team after the first attack will lie low for a month or so until the signal for a second round. The first attack by a cell will be the signal for the next cell to attack. That will happen two or three days later in another part of the country making the authorities think it is the same group as did the first attack. Then another day or two before the third cell goes into action. Each cell in a different part of the country will follow-up based on a pre-determined schedule. It will be beyond the imagination of our "terrorist experts" that these are all separate cells; they will believe it is one group dashing about the country.
Do you recall the response of Boston to the chase of the Marathon Bombers? All the people of Boston and adjacent cities were told to "shelter-in." Imagine two weeks of deadly bombing attacks and all the attackers still on the loose.  Can you imagine what will happen in the United States when the president tells everyone to "shelter-in?" Can't you see the round-up of all the usual Muslims suspects, the frenzy questioning of people who know nothing, the official panic, the confused FBI, and the great fear spreading through and disabling America?
This is what will happen. Bombs will be set off in theaters, public transportation, schools, colleges and public gatherings. These cannot be guarded against. We have been told it is to happen. The foreign Muslim jihadi have said over and over again they want to bring war to America.
If after these nation-crippling attacks were we to catch the members of one or two cells, what will we do with them? Will we bring them into federal court, give them lengthy trials to show the strength of our judicial system, and if convicted, will we hear pleas to spare their lives as we hear now with the Dzhokhar Tsarnaev?
Time will tell. No one can be lucky forever; not even our country.