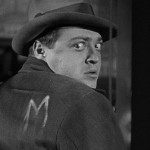 There are some people, who I must confess, have a very good feel for this case. One who I talk to now and again at court has always been on top of it and has seemed to me for whatever reason to be particularly insightful into the happenings. I ran into her earlier today. I'll call her Marla.
I'll say what I used to say in writing up affidavits for warrants, the use of the feminine gender does not necessarily mean this person is female. She may not be. I'll let you figure out the other alternative.
We had a few moments on our hands so she told me she has been in contact with one major gangsters in the Underworld. I don't know how many of you have seen the movie "M" starring Peter Lorre. That is one of the few movies that has ever truly depicted the Underworld as it existed back then and as it still exists. To get a feel for what I'm telling you I'd suggest you may want to see it.
Marla has had access to this one person in the Underworld because she grew up with this person. She is one of the few outsiders of that Underworld who has ever had a connection that high in that insulated world. That is why some of her writing about this case has been absolutely brilliant by the way it penetrates deep down into the motives of the witnesses.
Marla is the only person I have ever met who has been fed information from the Underworld. She tells me that it took her source years to get the clearance but when she explained one night sitting by the ocean that the above world had access to the media she convinced the Underworld it too should have a media friend.
What she learned resulted in the explosive revelation in the Teddy Deegan case. Without revealing her source, for to do it would mean instant death despite her long time friendship, she managed to have that case reopened and was able to expose the malignancy which brought it about.
I tell you that because I did that in affidavits where I would have to explain to a judge why an informant was worthy of belief, sometimes called credible, and the basis of an informant's knowledge, we usually required direct personal knowledge, in order to get a warrant, I thought it best to give you a similar background.(I'm not sure the federals need direct personal knowledge because they have a rule that lets them use hearsay upon hearsay if the original hearsay would have been admissible through an exception)
In any event Marla has shown her bona fides in the Deegan case and in other cases which I am unable to mention because much of the information is singular and could be traced back to her. But this is what she told me under the condition that I swore I would never to reveal it to anyone else. I swore to that but since Marla did not say "off the record" and I had my fingers crossed, I feel no compunction against disclosing it in the interest of truth. I would ask you to be discreet and only disclose this on a need to know basis as defined by Retired FBI Agent Montinari when prosecutor Wyshak asked him what need to know meant.
Marla told me her source in the Underworld is a member of the Underworld Gangster Association and is one of six members on its Screening Committee. That committee is charged with preparing a ballot listing in alphabetical order the eligible candidates for the Underworld Hall of Fame. Her source told her that Whitey was deemed ineligible to go on the ballot.
He explained that although Whitey would otherwise have been on the ballot, and probably have gotten put into the Hall of Fame (called Hall of Shame by some) by a wrote of the gangsters in the Underworld on the first ballot, something  rarely achieved other than by the greats like Professor Moriarity. He told her what kept him off the ballot was Rule 209 which makes those who were informants or Rule 302 who murdered women ineligible.
Marla said they conveyed that to Whitey who received it with great disappointment since all his life he has worked hard to achieve that distinction and thought the Screening Committee would know that as an Irishman he could not be an informant; and, that it would also know he'd never have harmed even a hair on the head hair of a woman except to sometimes cut a split end.  Whitey was told the Screening Committee would put him on the ballot next year if the jury acquitted him of the murders of the two women and he convinced others he was not an informant.
So as far as Marla is concerned that's what the trial is all about. She did mention that the Screening Committee has read my blog suggesting I believe Whitey was not an informant but they want a little more proof. I guess that's what Whitey will be putting up in his defense.
Like with anything, I'm just reporting what Marla said. You have to make up your own minds. For me, it seems she is on the money.