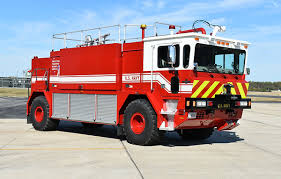 How many died in Vietnam? I guess if you consider those named on the Vietnam War in Washington DC the official figure it is a little over 58,000.  The dates are from 1954 to 1975 although not much was happening before 1964 or 1965. I know that because I was in Japan from 1961 to 1962. I was a Marine disbursing officer assigned to MAG -7 at Naval Air Station Atsugi, Japan. One of the our squadrons was doing carrier training in the Philippines so it was my job to fly down and pay them.
I flew to Iwakuni and then on to Okinawa in a DC 3. There I changed into another plane that carried large cargo. This one had on it a crash truck something like you see in the photo above. Along with the truck there were about a dozen Marines dressed for combat with all the gear and the weapons. I was dressed in my casual dressed khaki shirt and trousers. My weapon was the briefcase I was carrying.
In conversation I learned that they were going to Vietnam because Marine aircraft were going to be landing there. I said goodbye to them when I got off at Naval Air Station Cubi Point located next to Subic Bay.  That was close enough to Vietnam for me. Thirteen years after that we would have lost most of the 58,000 troops in Vietnam. The tragedy was so great they memorialized it with the wall which I mentioned. To view it you descend in a slow manner down to the bottom by which time you've passed half of the names of the dead. You still have a large number to pass coming out of the bottom. Some I know, not many, but I remember them and their faces. Their lives cut short before they hit their mid-twenties.
I thought of this when I was watching for a brief moment Fox News talking about the Trump and Kushner telling us of the great success leading us to V-V Day. The people making the point were all suggesting that lots of people die from many different illnesses or accidents each year. Their point was that no one should be bothered because 100,000 died of Covid-19.
It may me think those Fox folk should stand with a big sign at the Vietnam War Memorial and have on it, "Lots more than 58,000 people die every year in the USA from other causes. Is 58,000 deaths a big deal?"
Then I got thinking that about 2.9 million people die in the US each year. There about 650 thousand who die from heart disease and another 600 thousand from cancer, and so on. If that's the case how would these Fox folk feel if people walked around with signs saying, "On average 2.9 million people die every year in the US. Is 600 00 abortion such a bid deal?"
All of this pooh-poohing of the 100,000 death figure reminds me of the quote attributed to Joe Stalin: "If only one man dies of hunger, that is a tragedy. If millions die, that's only statistics." The idea that the number of dead is not a big deal seems to run against the core of American values. I thought our philosophy was more akin to that of John Donne  than Uncle Joe Stalin's which he expressed in No Man Is An Island" pointing out "any man's death diminishes me, because I am involved in mankind. "
———————————-
Then we have those who justify V-V Day — they don't tell why the crowds didn't come out to celebrate but say things like: "Some say Trump's restrictions on travel from China announced on January 31 may have prevented over a million deaths in the U.S." I wonder who that "some" is? Are their names are Kushner and Junior Trump?  The same person predicted without Trump's quick action "today there would be (594 x 320 =) 194,000 deaths in America."
I can't figure out how they go from 194,000 to a million. Maybe because they know Trump is in charge. You do recall that on April 6 when we had less than ten thousand deaths he could see the light at the end of the tunnel. What he must have seen is the front headlight on a freight train coming toward him
The "what-could-have-been" figures are pure nonsense. Trump claims anywhere from one to two and a half million lives would have been lost if he wasn't president. Who does he think would have been in office for that to happen?
His folk seem to agree. Which caused another person to comment: "What is the number of deaths that would you forever Trumpers feel that he may have been in error (or, more likely, one of his lackeys) in handling the epidemic? 200k? 400k? 1M? You are beginning to sound like Westmoreland." Yes, Westmoreland kept seeing that light at the end of the tunnel.
That, of course, is the nub of the matter. Even if we lost 1 million people to Covid-19 Trump would be saying if he wasn't president we would have lost 5  million thus he saved 4 million lives. The Trumpers would all parrot him and tell us what a great success it is. Then I suppose someone on Fox would say: "Up to 85 million people died in World War II. Why  Is 1 million deaths such a big deal ???"