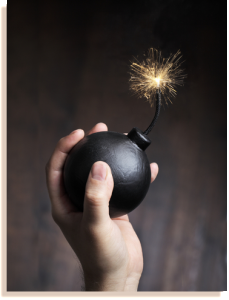 It's a mad world out there. Much of the madness is confined to the Middle East stretching up into Afghanistan and Pakistan. There are some in the Muslim community who believe it is all right to blow themselves up in crowds of people.
I don't suppose I'm being politically incorrect by saying it is a "Muslim thing" to wrap one's body in explosives or climb into a car filled with them and setting them off while among others for the purpose of gaining greater glory in another world. I know the president would want you to believe it is an "Extremist thing." I will let the facts speak for themselves.
There was a time when Israel had to confront this problem. It found the only way to do it was to build a big wall and to set up check-points to ensure that no one could smuggle explosives into their country. The wall started in 2002. Without it Israel was open to this naked aggression which was growing year by year. In the decade of the 1990s Israel suffered 22 suicide bombings; in the five years 2001 to 2005 it experienced 136; from 1990 to 1999 164 individuals were killed; there were 599 killed in the 5 years from 2001 to 2005.
The wall brought an end to them. It hasn't happened since 2008 that someone has strapped a bomb to his or herself for the purpose of murdering Israeli Jews. To paraphrase Robert Frost: "good walls make safe neighbors."
An Australian professor has written saying it is not correct to put it on the Muslim religion. He says a database on suicide bombers "discredits the common wisdom that the personality of suicide bombers and their religion are the principal cause. It shows that though religion can play a vital role in recruiting and motivating potential future suicide bombers, the driving force is not religion but a cocktail of motivations including politics, humiliation, revenge, retaliation and altruism."  The only answer I can make to that is none the less all the suicide bombers seem to be Muslims so that the religion must play a larger role than the academic wants us to believe.
Why then is it the Muslims who kill themselves? (Yes, I know of the Kamakaze but I'm speaking of the present time.) One person wrote: that the ideal type of holy warrior (mujahid) is "the fighter who engages in an action called inghimas, throwing himself recklessly at the enemy, even if he should be one man against a thousand." He went on: "In the modern period, some scholars have argued that there is a close connection between inghimas and suicide bombing: . . .  Gibril Haddad, a hard-line Wahhabi sheikh, writes that inghimas "must not be viewed as reckless self-destruction but as the highest valor and courage." " The author goes on to say: "This again is a clear echo of the Islamist saying that Muslims "love death" whereas non-Muslims love life."
The Muslim countries of Afghanistan, Pakistan, Iraq, Syria, and Yemen are places where recent suicide bombers have done their work. People from those countries, including Saudi Arabia, Chechnya, Lebanon and Egypt, have launched suicide attacks on others. We have been attacked in Lebanon, Tanzania, Kenya, Yemen and New York by suicide bombers. Outside of September 11, 2001, we have not had any suicide bombings in our country.
Unlike Israel we cannot build a wall. Unlike Israel our security is more sieve-like than iron clad. Israel is a small country and can well defend its borders as it has shown; we are a large country and cannot defend our borders as we know.
Leave out 9/11, then consider we have yet to be hit by suicide bombers. The materials are readily available in this country for constructing bombs as shown by the Tsarnaevs and McVeigh. If they were not you have to assume if we cannot keep heroin, cocaine and marijuana from coming over our borders it is unlikely we can keep unwanted explosive material.
Our continuing wars in which Muslims are dying in their own countries have only increased their hatred for us. I  suppose if people from another nation were killing Americans in Nebraska we would feel the same.
How long do you think our luck will hold out that no suicide bombers will infiltrate among us? There's no way to stop someone who is willing to die for the cause. What will our reaction be if one follows another and another follows after that?
No matter what you think at that time please don't think like President Bush II "they hate us  for our freedoms." We have had those freedoms for over a century or two. They have only hated us since the latter half of the 20th Century. It's simpler and more down to earth. They hate us because we are involved in their countries and killing them. So don't be surprised when they come here and they will, probably sooner than you think.