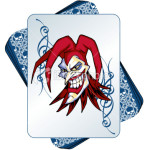 A gun fight in Watertown; his brother killed; and here it is 16 hours after that  Dzhokhar A. Tsarnaev remains on the loose despite the most involved manhunt in Massachusetts history utilizing all of the federal, state and city resources. Dzhokhar is pronounced like the name Joker with a Boston accent which turns the "er" in an "ah."
This Joker is like the fiendishly evil Joker who was one of Batman's enemies. He has done the most amazing thing — he has vanished in broad daylight.
According to media reports, after the Monday bombing he was at the gym at UMass Dartmouth working out. Last night he was in the middle of the gun fight.  There is nothing in his background that hints of him being a terrorist.  There is nothing that would show a hatred for America. But now he is being hunted as America's # 1 enemy.
Where can he be? Where did Jean Val Jean hide? In the underground. What underground do we have, the MBTA. Look for him there! What's behind the Watertown Mall. The Charles River. Look for him there. He can't have been in locations where people could have seen him or he would have been captured by now.
Joker was the captain for two years of his wrestling team. When the media talks to people who were his friends they all tell of this wonderful guy mentoring younger guys and helping ladies with their groceries. Was that part of his disguise over the years?
He grew up most of his life in the Boston area. He speaks English without an accent. He is neither religious nor a zealot. He seemed to have no political feelings.
How then did he become a terrorist.
Howie Carr said that FBI Agent Paul Rico became a full-fledged killer planning to murder one of the McLaughlin brothers with a throw away gun (with the help of four other FBI agents) because he and they were upset that one of the McLaughlins suggested Paul Rico was gay.
Will Howie analogize that situation to now and suggest someone at U Mass Dartmouth called Joker gay so his response was to cause mass casualties at the Marathon.  Even that'd make as much sense as his story about Rico but we know it is not beyond Carr. Luckily for him he has the Muslim angle to rant about; imagine how much more happy Carr would be if rather than the Russian surname Tsarnaev his last name was Tsanchez.
Seriously now, this really is a puzzle if not our worse nightmare. If a very normal kid like Joker could become radicalized, there is no one out there who can't. How then do you ever protect the American people from another attack? Who can you trust?
That's why we have to take Joker alive. We have to find this out. What made him change so drastically.
As time passes the chances for this seem more and more remote. He may already dead by his own hand. He's a scared young man who is 19-years-old. He has no background. He's armed. He knows nothing good lies ahead. His brother has already gone off into the great hereafter. Maybe he'll think its best to join him?
We also have the complication of the law enforcement people being tired and edgy and armed. It has been a long day. They're not going to give him much of a chance in a face-to-face encounter knowing he's already killed one police officer at M.I.T. and may be carrying explosives.
Time is not our friend. Neither is the night. This is the most macabre criminal event I've ever seen.