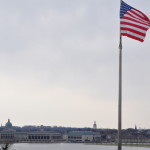 It's amazing how things that seemed importance fall into insignificance in the light of other events such as family or community or national tragedies. Our law enforcement agencies deserves congratulations for the quick uncovering of the fiend bombers, two Chechens brothers, who caused the Marathon Terrorist Attack (MTA) One of whom is dead at this posting.
One is still at large but close to being brought down or in. He is Dzhokhar A. Tsarnaev. Have you seen the picture of him intently walking away from the explosion while all the people around him stare back in disbelief or stand stunned? For me, that alone is enough to show his involvement.
Dzhokhar has lived among us for upwards of 10 years and is a graduate of a Cambridge High School with American friends. When  9/11 happened I thought the terrorists involved in that incident had had no connection to America. I believed had they that they'd have understood what America is about with its openness and freedom and acceptance of all. I was dismayed to find that I was wrong. Some of these men had lived here and knew our culture. But none had grown up here prior to their teenage years.
How then explain what caused Dzhokhar to want to murder Americans among whom he has gone to school and had a few beers? This is why it is hoped that they capture him alive. Yet he has no reason to surrender knowing full well what lies ahead for him.
How then explain his older brother Tamerlan. He trained to be a Golden Glove heavy weight fighter hoping to go to the Olympics to represent the US. He said he'd rather fight for America than Russia.
Of course that these two terrorists are Muslims is the worst thing that American Muslims could want. Within that community there was great fear that if one of their own brought about the MTA the anti-Muslim furor would again begin. We can't be part of that. But we'll see some exploiting this and as they stir the embers of fear.
There are millions of Muslims in America. Many recent arrivals love the country for the freedom it has given them to practice their religion and escape from oppression.  Many others, born here, know no other country than America.  American Muslims have as much  responsibility for this incident as I did for the IRA murder of British Lord Mountbatten.
What is important now is to find clues that will tell us what brought about the radicalization of these two brothers. What did we miss? Did they travel anywhere? Where was it? Who were they in contact with? Where had they worked? Things like that.
I figure they pretty much acted alone. They had no escape plan hanging around in Boston until their pictures were shown on TV. Then robbing a 7 Eleven to get some money and hijacking a car.
Too much of importance is happening to write about Whitey's saga today. To answer the question where's Whitey, he's been put to bed for a day or two.