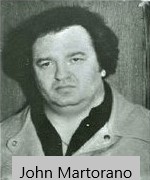 They were in a typical government conference room. John Martorano was seated at the desk and next to him was his lawyers. On the opposite side of the table were the agents for the government, the prosecutors and the investigators. John was telling of his many depredations throwing in a joke or two for the entertainment of all present. He enjoyed being the center of attention.
Prosecutor: (P) "All right, Mr. Martorano, you  . . ."
John Martorano: (J) "Call me Johnnie, will yah!"  (Laughter among investigators – John smiles.)
P:  "Mr Martorano, you told us of the murders of Margaret Sylvester, Robert Pallidino, John Jackson, Herbert Smith, Elizabeth Dickson, Douglas Barrett, Anthony Veranis, Ronald Hicks, and John Banno, all which occurred between November 1964 and September 1969, which you admitted committing."
J: "Wait a minute, I did not admit killing Sylvester, so don't, that's wrong."
P: "I stand corrected, other than Margaret Sylvester you admit the others."
J: "That's right but I had good reason to do them."
P: "So up to 1969, leaving out the woman, you murdered eight people, five of whom were African-American, is that what you are telling us?"
J: "That's what I said and hey, if I killed that Sylvester woman I'd admit to it but I didn't. I didn't kill no woman, you understand."
P: "Now how many of these murders was James "Whitey" Bulger involved in?"
J:  "None, I didn't hardly know him at the time. He was from the Town, I wasn't"
P: "What do you mean the Town?"
J: "That's what everyone calls where he comes from, the Town. It's the Town, the name the guys from South Boston give South Boston."
P: "When did you first meet Whitey Bulger?"
J: "Sometime in 1972 – as I said I don't hardly know the guy – he comes up to me and asks me to set him up with a meeting with Howie Winter in Somerville."
P: "What did you do?"
J: "What do you think? I set him up." (John looks around for approval.)
P:  "Between September 1969 when you murdered Mr. Banno and March 1973 when you murdered Michael Milano you say  you murdered no one else?"
J: "Yeah, I told you that – if I did I'd tell you as I said."
P: "How was it you murdered Mr. Milano?"
J: " I was over with Howie Winter at the time. We gets a call Jerry Angiulo. He wants to see us. Howie and I go over to the Dog House – that's Jerry's office – and he tells us his guy named Paulie was killed by Al Angeli and he wants us to kill Angeli and his gang."
P: "What happened after that?"
J: "What do you think? We killed them all." (John looks around with a smile.)
P: "Could you explain how it was done.?"
J:  "Sure – we kill Milano because we think he's Angeli – stupid mistake – but what can you do?" (John looks around at the investigating officers who nod in approval.)
P: Can you describe in greater detail how you did it?"
J: "Yeah, Milano, Plummer, O'Brien we killed by mistake. Jimmy Sims was driving the car, Howie and I had the grease guns. We pulled up besides them and Howie and I blast away. Then we go to Florida – not me but Joe Mac and Jimmy Sims – murder John Leary. I then do a beautiful set up of Al Angeli's brother Indian Joe Notarangeli at the Pewter Pot restaurant – he's in a telephone booth and I go in and let him have it. Meanwhile Al Angeli is still out there – he took off but came back – he offers Jerry Angiulo 50 grand to straighten things out – Jerry takes the 50, gives us 25 and tells us to murder him – we then set him up – me and Howie's friend Sal  Sperlinga and put a  bullet in his head."
P: "So you were personally the trigger man in all the murders along with Howie Winter."
J: "Yeah – all of them – oh  not the guy in Florida – Leary that was Joe Mac.
P: "The description of that murderer fit you, not Joe Mac."
J: "It wasn't me I tell you. I don't care what anyone says. Not me. that was in Florida, it wasn't me. I gotta go take a leak. Let's have a break!"
'————–
P: "We're back. Now these murders for Angiulo, we want to have Whitey involved in them because he was  with you and Howie at the time so he could have been there."
J:   "Yes, he was involved in all of them – he was in another car – you know a crash car – he was waiting to help us out if we needed to have help."
P: "So you'll testify Whitey was in a crash car for the Milano, Plummer, O'Brien, Notarangeli, Leary and Angeli murders?"
J:  "No, I can't say it on Leary, that was in Florida; and Angeli there was no crash car situation there – it was in Sal's car – I shot him from behind." So yeah, the others I'll put him in the crash car."
P:  "Are you sure he wasn't in the car when you murdered Angeli? You might have forgotten who was there?
J: "I'll see if I remember if he was but I can't put him in Florida, you know."
P:  "All right, think it over, remember the more you jam Whitey into your murders  the better the deal for you. Think if there is anyway you could remember if he killed that Margaret Sylvester woman?
J: "You know come to think of it, I do remember that he . . . "
P: "Hold on Johnnie, I was just told Whitey was in prison at the the time she was murdered so let's skip that. We'll go with what you said for now."