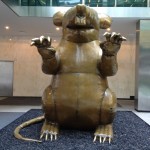 Whitey Bulger lived with his family on LoganWay in the Old Harbor Village, South Boston (Southie).  (Logan connected with O'Callaghan Way.)  This was one of the first housing projects in America.  He had a reputation as a bully.  Brother Billy wrote that while a kid Whitey  became "known to the police."   It wasn't for his participation in the Police Athletic League since he eschewed sports other than batting around much younger kids.
At 19 he went off to the Air Force.  When he came home he took to robbing banks.  His brother Billy said Whitey was a leader, that being "the only role he would tolerate."  Except perhaps in some things.  Billy writes, Whitey "fell in with some much older men" and he "accompanied" them on robberies.   I can imagine  the conversation:
Older man:  "Hey kid, now that you're out of the Air Force would you like to hang around with us older men?"
Whitey:  "Gee, whiz!  Can I?"
 Older man:  "Sure  kid.  Come on take a ride.  We're a little bit lonely and need some company."
Whitey:   "Wow, this is great.  Hey, you mind if I ask where we're going?"
Older man:  "To Indiana to rob a bank."
Whitey:  "Oh, OK.  How should I dress?"
Unfortunately Billy's tale is a little off the mark.  Whitey returned from the Air Force four years later as wild and bold as when he joined. Whitey led several robberies with younger and older men.  In one he walked into the bank carrying a revolver in each hand.  With the loot he'd take some young blond and go off to a warm clime on a spree.
At age 26 he was arrested by the FBI in a Revere gin mill.  One of the agents in the arrest was Paul Rico.  Whitey ended up doing around ten years in Atlanta, Alcatraz, Leavenworth and Lewisburg.
He came back to Boston in 1965 just about the time the gang war between Winter Hill of Somerville and the McLaughlins of Charlestown was winding down because few targets were left.  The war was over an alleged insult to a young moll.  Whitey got himself involved in a Southie gang war between the Mullens and the Killeens, always ready to switch sides as the power switched, always taking good care of Whitey.
In 1972 he joined Winter Hill which had emerged victorious over the mostly deceased McLaughlins.  He was introduced to its leader, Howie Winter, by Johnny Martorano who also joined at the same time.
In 1972 Stevie Flemmi was on the lam and hiding out in Montreal.  He had wired an attorney's car with a bomb that blew off the lawyer's leg.  He had been an informant for Agent Rico since 1965 so he stayed in touch with him.  He came back to Boston in 1974 after Agent Rico managed to get his case dismissed.   Stevie became partners with the others in Winter Hill.
The first record of Whitey being a snitch for the FBI is dated May 13, 1971 when he was opened by FBI Agent Dennis Condon, Rico's partner.
The FBI records showed Condon closed out Whitey after about four months.   Its records also show Flemmi was closed out in 1967.   The official records on Whitey is he was closed in September 1971, reopened in September 1975, and finally closed on December 3, 1990.  The records on Flemmi show he was closed in December, 1967, reopened in September, 1980, closed in 1982, reopened in 1986 and finally closed on December 3, 1990.  The reason both were closed in December 1990 was Connolly's retirement.
Flemmi testified he never knew he was ever closed.  The opening and closing of informants in the FBI had really two components: what the records said; and what actually happened.
Kevin Weeks in his book, Brutal, said John Connolly told him after he retired he still met with Whitey exchanging information he received from his friends in the FBI.  Whitey always appreciative would give him a cash "thank you" card.
Tom Foley in his book, Most Wanted, complained that even after Connolly retired the FBI still undermined his investigations of Whitey.  The protection seemed to never end.
I'd suggest it's fair to say Flemmi was an informant from 1965 up until 1994.  Whitey ratted people out from 1971 up through 1994.  In 1995 things turned sour.