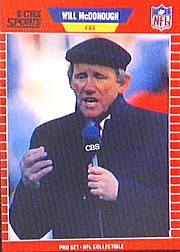 Will McDonough died over twelve years ago in 2003. During his lifetime he was considered the top sports reporter especially when it came to the NFL. An article telling of his life in the newspaper he worked for most of his career noted: "Substance was what mattered. Those who had it, he embraced. Those who tried to snow him – and, by extension, the public – with superficiality, he scorned."
After John Connolly was convicted in 2002, Will wrote a letter to Judge Joseph Tauro about him. I read it the other day. I think it is important for us to remember what he wrote. The more we have learned about the case the more we see how much accurate truthfulness he set out. He was  at the time he wrote a national figure and at the top of his career. He did not have to step up to the plate and take this swing to try to help out John Connolly.
I reproduce the letter below. It was obviously self-typed with a handful of spelling errors that I corrected. It is well worth reading.
"Judge:
I  have been a friend of John Connolly's for more than 40 years. I hold him in the highest personal regard. He is a great father, and husband, and was tremendous in his career with the FBI.
I hope you can find it in your heart to give him the most lenient sentence possible. All of us would be better served with John in our community raising his children.
As for the trial, allow me to give my input. I was Billy Bulger's first campaign manager in 1960. I was the best man in his sister Carol's wedding. I played high school football with his brother Jack. I have known Jim "Whitey" Bulger for 50 years. I visited him when he was in Leavenworth, Kan., Federal prison in the late 1960's when I was covering the Red Sox. I too got him the job to get him out of prison, when his brother didn't have enough clout to do it.
I last spoke with Jim about two months before he [next words are blurred in my copy.] From what has happened since, it is easy to see he had planned for his escape. Kevin Weeks is full of bull. There is no way John would have gone to the store to tell him, Whitey himself told me months earlier the store was always under surveillance. If John wanted to tip Whitey, he would have done it directly. 
John Connolly did what his superiors asked him to do, and he did it well. Then they had him take the fall. If he had lied for them back at the start of this investigation, he wouldn't be in  the spot he is in now. We know from the history of the FBI they are an inept crew. All we have to do is read the paper every day. Now about what they did to Salvati and Limone. The government just did the same to John.
Let me say this. Bill Bulger was not John Connolly's mentor. He was just a friend. John was already in college when he met Bill. Secondly, John Connolly grew up (after 8 years of age) five miles from the Bulger project. Whitey didn't know him from a sidewalk brick until Whitey was around 40 years old.
Hope you are in good health. I saw you at Earl Cooley's time but didn't have a chance to say hello. Stay well.
Thanks for your consideration
Will McDonough" 
Think of McDonough's major points and consider how much they contradict the accepted story and support what I have been writing. Whitey would not have known Connolly until he was in the FBI; Connolly would never have gone to the liquor store to have Weeks pass on a message to Whitey; Billy Bulger had no relationship with Connolly until the time he was running for office in 1960; and Connolly was doing the job he was supposed to be doing and the FBI turned on him.