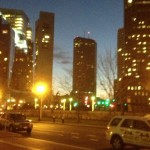 A long time ago on August 8, 2012, I spotted how J.W. Carney was going to play the immunity issue when he first mentioned it but refused to disclose who gave the immunity. Initially it was up in the air although we knew it could not have been an FBI agent because the Court of Appeals said in the appeal from Judge Wolf's decision that FBI agents don't have that authority. Carney would eventually disclose it was O'Sullivan.
I spotted it in an article by T.J. English in Newsweek Magazine. Incarcerated FBI Agent John Connolly had spoken with him from his prison in Chipley, Florida. Here's what English said Connolly told him about Whitey and Jeremiah O'Sullivan, the head of the New England Organized Crime Strike Force:
"As early as 1977, agent Connolly informed O'Sullivan that he had "turned" someone who could help them make major cases against the Mafia. When O'Sullivan heard it was Bulger, he wanted to meet him. Remembers Connolly, "I asked him, 'Are you sure? You don't have to.'" It was highly unusual for an assistant U.S. Attorney to meet face to face with a top informant while an investigation was still ongoing. O'Sullivan insisted. Connolly set up a meeting between the city's top mobster and its top organized crime prosecutor in a hotel room on a rainy afternoon around Christmas. "I was there," says Connolly. "Jimmy met Jerry. As I remember it, they were both quite impressed with one another."
English's article was written in June 2012. At the time I thought there may have been some coordination between Whitey and Connolly relative to this matter. I sensed Whitey was setting up his immunity defense and Connolly would come along and help out his old friend.
If you read my post yesterday, you'll see that six months ago Whitey was not too happy with Connolly. Whitey says he never told Connolly anything but paid for information that Connolly was giving him. Yet reading through his statements, he also seems to be complaining that Connolly and Morris, "the other guy," were writing down what he told them. It was Flemmi who said he never thought they were writing down the things he was giving them.
Whitey's got himself in sort of a bind now. I figured he'd have called Connolly as a witness to support his immunity claim based on what Connolly told English. Remember Salemme telling how Flemmi kept telling the gangsters that Connolly would come in and testify for them but in the end he took the Fifth. Maybe Whitey learned Connolly would not testify for him and that's got him angry. Anyway Whitey has pushed Connolly away from him by saying he's been paying him for information all these years. That supports Flemmi's claim, as the prosecutors note, of paying Connolly "hundreds of thousands of dollars in cash" and Weeks's testimony of paying Connolly. It sort of leaves Connolly naked in his naked denial of taking money — it's his word against his top echelon informants, the independent evidence of his life style, and the need not to cash his pay checks.
I've digressed a bit since I wanted to explain the most compelling evidence the prosecutors could have used against the idea that O'Sullivan gave Whitey immunity. I've been writing about it in my reevaluation of Whitey's life which I've suspended for a few days. I'm dealing with this exact point now in that series. Whitey was of no use when it came to the Mafia. Flemmi was the guy with the Mafia connections. Whitey was only on as an informant because he was Flemmi's partner. The prosecutors cannot use their best argument because they don't want to admit this. They've made a deal with Flemmi, have made Whitey as the ultimate criminal, so they've given up their trump card.
If O'Sullivan would have wanted to meet anyone it would have been Stevie. Whitey was of no use to O'Sullivan or the FBI when it came to the Mafia. There was no way Connolly would tell O'Sullivan and O'Sullivan would believe, no matter what else you want to believe about O'Sullivan, that Whitey "could help them make major cases against the Mafia." In fact when they made the major case, they did it without Whitey or Stevie's help.
In 2002 O'Sullivan was questioned by Congressman and former Norfolk County DA William Delahunt about the wiretap he did on the Mafia's Boston headquarters at 98 Prince Street.  Delahunt asked him whether "Flemmi and Bulger were crucial or were critical in developing the probable cause necessary of 98 Prince Street bug." O'Sullivan answered: "They weren't."
Delahunt, who had authorized more wiretap investigations than any other DA in Massachusetts history was keenly aware of what was required for them, later asked:"You had numerous other investigative techniques as well as informants that were assisting you and providing you information that was necessary in terms of the 98 Prince Street wiretap." Jeremiah O'Sullivan responded, "That's true, Congressman. As a matter of fact, I met with some of those informants personally to develop the information so I know who has contributed to the 98 Prince Street wiretap." 
Why then would O'Sullivan even consider giving Whitey immunity for his help in going after the Mafia when he has no need for him? Objective facts show Connolly's story is pure bull.
The bad news for the prosecutors is they can't use this argument because it undermines all their deals with the other gangsters to get Whitey. The good news for the prosecutors is no one believes Whitey had immunity in any event.
Judge Stearns or any judge who decides this issue really has no choice but to say there is no evidence Whitey received immunity from O'Sullivan. He'll have no  choice but to keep the issue from the jury.