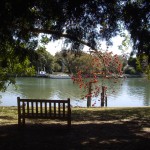 We've been through the first five murders which Whitey is accused of committing. Martorano is the witness against him in all those. Writing of Martorano I have to say I'll never understand why he did not just go off into the sun set and live the rest of his life thanking his God that he had the chance to get out of prison. Why when he's free does he thumb his nose at everyone. He made a basket full of bad decisions in his life but the biggest is writing that book and walking around like he's some type of super hero; we've seen batman, superman, spider man and now we have murder man.
I can't figure how he got conned into thinking the book was a good idea. Nor why he'd think there is a smidgen of merit about shooting unarmed people, mostly in the back of the head.
Martorano spent 16 years hiding in Florida because of some penny ante race fixing charge — now facing even the outside chance he could again be charged with murder he is parading around like the late Dapper O'Neil on St. Patrick's Day. I guess he never figured Whitey would be caught; that he'd be called back to justify and explain and possibly implicate himself in other crimes when he  testifies. He might even have to take the Fifth. Won't that make the prosecutors happy with its star witness clamming up?
I wrote how his involvement in the murder of John "Jake" Leary which occurred in Fort Lauderdale is still open. Whitey's lawyer J.W. Carney will want to ask more about that. Linking himself into something like that will come back and bite him. It was totally unnecessary to telling his tale.
Those who follow Howie Carr tell me that he keeps calling Martorano and referring to him whenever some past crime occurs. Speaking of Howie, Martorano will have a chance to see if Howie is a stand up guy when he's put on the stand by Carney and asked what Martorano told him about these events and others. I'm sure defense counsel will ask for a court order making Howie preserve his interview notes. Howie's not going to be happy giving evidence against Martorano especially since it means he will be excluded from watching and writing about the trial.
Martorano's book tells about murdering people. He admits to murdering Veranis. Doesn't he know about the Massachusetts law on murders that goes something like this:  "If a mortal wound is given, or if other violence or injury is inflicted, or if poison is administered, in one county, by means whereof death ensues in another county, the homicide may be prosecuted and punished in either county."
He may have received his immunity deal from Suffolk and Middlesex Counties, but Veranis's body was found in the Blue Hills, Norfolk County. If the DA in Norfolk does not signed off on it (and the AG does not) Martorano can still be charged in Norfolk. Morrissey might have let it go except for the bragging Martorano has done in his book. Carney will be sure to highlight it.
Martorano's very real problem is that Carney knows all this thanks to his book. Add to that, Carney knows from Whitey the rest of the story about him. Connolly's lawyers did not have the inside information on him that Carney does. Carney will stand in front of him with his book. Even without Whitey demanding it, Carney will do everything in his power to link him to other crimes.
When Howie conned Martorano to get into the book writing business he did him no favors. Howie's continuing talk of his exploits is also doing him no favor. The talk about his movie contract doesn't help.  If he had half a brain, he'd return to the life he led back in Florida keeping a low profile, shunning publicity and hopefully not do any more hits.
He should know that in the world of cops, they're willing to accept he got a good deal and let everyone go on with their lives, but when he comes back and taunts them, he should expect they'll react. Nothing motivates a cop more than seeing someone suggest he's a fool as Martorano has done. When Whitey comes to town to tell his version of the story, anything he tells about Martorano that does not come under the fed umbrella will be thoroughly pursued by the cops who Martorano is belittling. The feds won't do anything because he is on their team sitting in their boat rowing along with them but they are not the only game in town.
I know Martorano likes his gold. He wears a lot of gold jewelry. He should remember what the nuns said about gold, "silence is golden." He can't take back what's out there but he can minimize its effect by staying out of the spotlight.