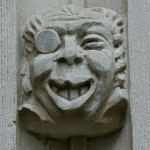 Yesterday I mentioned working on my book "Boston Bamboozled." I'm reading the book I talked about that called Whitey "arguably the most significant organized crime figure of the twentieth century." 
My job as I see it is to find out what there is out there that I don't know about. So I'm reading this book and when I come upon something new or which I was not clear about I want to see the source of it. 
Now I've mentioned this before. There are books out there like the ones written by Howie Carr that have no footnotes. There is no way to check back to see whether he's just making something up or there is a basis for his statement. You have to accept what he says is true without verifying it. Ronald Reagan reminded us that would be luddicrous. Another book without footnotes is the one by Ralph Ranalli. Again he wants us to trust what he says without backing it up.
So we end up with gangsters telling their lies and authors telling their stories none of which we can check out ourselves. But in the book I'm now reading there are footnotes, so when I come to something that is new to me I check out the source.
The book is about Whitey and the murder of Roger Wheeler. I'm just getting into it having read that the name Bulger is Gaelic for "yellow belly" and that "Wheeler never knew that he'd been taken out on the orders of Whitey Bulger, a thug for all seasons. . . . " by John Martorno and Joseph McDonald. Hardly was Whitey ordering Martorano around.
The authors seemed to be lacking an understanding of what happened. They wrote Wheeler got a $33 million line of credit from a Boston bank to buy World Jai Alai (WJA) . It had three restrictions: (1) "he had to keep Richard P. Donovan . . .president"; (Donovan took over after John Callahan had to step down because of his association with organized crime people); (2) "Donovan could only be replaced by John B. Callahan"  (makes no sense because Callahan had to step down) and (3) Wheeler could not change the nature of the business or equity distribution.
There was a footnote attached to the statement. Footnote #13 referred to Donovan being replaced by Callahan. The source was Howie Carr's book at page 160. That in itself is a bad source because Carr doesn't source anything he writes. Even as bad as that is, nothing on that page mentioned Donovan or Callahan, never mind anything about the bank.
The next footnote #14 supported the statement that "there is no evidence that the [bank] knew of the Callahan-Winter Hill gang relationship." The source refers to an interview of Tulsa detective Michael Huff with the author. We have no idea if Huff spoke to anyone at the bank. If he didn't, there would be no evidence since it wasn't sought.
The authors write: "Thus, the New York Times theorized Wheeler received significant tax sheltering opportunities from the deal but little else." (my emphasis) They supported that with footnote #15, a NY Times article from June 4, 1981. That article was written by a reporter in Tulsa although in the NT Times was not anything the NY Times was theorizing. What the Tulsa reporter wrote was: "A top official of World Jai-Alai said, further, that the main business value of the venture was that it was "basically a tax shelter." He also notes that Wheeler told his college alumni magazine he "invested in World Jai-Alai "simply to make money,"  Hardly, the little else the authors would have us believe.
Although there's a footnote 16 in the footnotes, there's none in the text. The statement that "some suspected that sources within the Boston Police Department had alerted Callahan [that the CT state police knew he was hanging around with gangsters]"  is supported by footnote 17 which cites Ranalli, 162. There Ranalli says "investigators still believe" Callahan was tipped off without giving an reference for that.
How can you verify anything when nothing is sourced? There's a statement: "Wheeler reportedly asked Rico to take a polygraph test. He refused." That is sourced to Detective Huff who didn't know Wheeler when he was living. Another statement: "said reports by a catering manager that financial statements at the Connecticut fronton showing profits were altered by WJA headquarters in Miami to show losses." is sourced to footnote 24 which is back to Ranalli at 186. Ranalli says an unnamed "former catering manager" made that statement to unnamed the Connecticut investigators.
You see how rumor is passed on. Lies become the truth by repetition. Authors cite sources that are not supported. Unfortunately, the bamboozlement goes on full force.