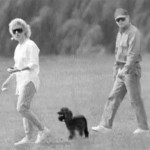 The way you wear your hat.
The way you sip your tea.
The memory of all that –
No, no – they can't take that away from me.
. . .     The way you haunt my dream.
. . .     The way you hold your knife
. . .     The way you've changed my life.
No, no – they can't take that away from me.
The words of this song Frank Sinatra often sang came to mind when I thought of Whitey and the way he dressed for court. Frank wrote a book and used the first line of the song as its title.
I wrote about seeing Whitey come into the courtroom.  He walks in a determined manner not like an 83 year older but someone much young as if he were on a mission. I've also written that he pictures himself as commander-in-chief. His insouciance reflected in his walk and manner suggested despite his two years in solitary-type confinement he hasn't lost his idea of himself as in charge or his swagger. His hair was cut in a nice Parris Island Marine boot camp first day issue style.
That suggested something to me but what really hammered home the message was the way he dressed for court. He had a black pullover long sleeve jersey tucked into his blue jeans held up by a cloth-type belt. They wouldn't let him wear his belt with the Alcatraz buckle. I didn't see them but he wore white sneakers according to Melinda Henneberger of the Washington Post who gave a very insightful view of the proceedings.
I have to assume this hairdo and get up is Whitey's idea of how he wants to look. I think it is a bad idea but it tells us a great deal about what is going on his mind. He's sending a message out to the world in the words of another Frank Sinatra song: "I did it my way."
And now, the end is near
And so I face the final curtain
My friend, I'll say it clear
I'll state my case, of which I'm certain
I've lived a life that's full
I traveled each and every highway
And more, much more than this
I did it my way
I'd describe his dress as "Southie Tough." It's pretty much how he would have dressed during his day as a gangster. I guess being back in South Boston (the Courthouse is located on the waterfront of South Boston) and knowing this is his final curtain he's going to go out in Southie style.
I said it was a bad idea because how one dresses is how the jury will think of a person. I've mentioned this before but I had two complicated and difficult arson cases in which my evidence was like in most of these cases strictly circumstantial. The first one involved two guys who blew up a store who were defended by highly competent defense counsel. On the first day of trial the two guys walked into the courtroom in leisure suits which all the gangsters seemed to wear at that time. Seeing them dressed that way I felt confident I'd bring home the bacon.
The other arson case I tried twice to a jury. Both cases ended up with a hung jury. I knew I had a problem the first day when the defendant showed up in a business suit along with his dignified wife and their well dressed children who sat behind him throughout the trial. On each of juries there was a handful who weren't so concerned with the evidence as they were with what would happen to this nice family if they convicted the defendant. After the second mistrial the defendant came up behind me and patted me on the back and uttered: "nice try." He'd move from the area and a few years later I read an article that one of his kids became one of America's top ice skaters.
I'm sure if Carney & Brennan had their way Whitey would have come in dressed in a business suit with nice blue shirt and tie; or come in with all the get up of an old man wearing an old dirty-looking suit three sizes too big with a shirt that had enough room to fit another neck in the collar. They'd want to present an image of a beaten down person who could not possibly have committed the horrid crimes of which he stood accused. Instead, they have the jury looking at a guy who very well could have done those evil deeds.
I conclude from his dress several things. Whitey is running his own defense and is very much involved with his two lawyers in making decisions but they are deferring to him the final call, as they must do; Whitey wants to go through this trial in a manner that is most comfortable for him and which he is used to knowing this will be his last chance to dress as he likes; and finally Whitey knows this is his last hurrah, his final strut upon the stage, so he wants to go out dressed as he always did. He's realistic and knows that there is no chance he won't be convicted.
It's like the last meal of a man on death row. It's the last time he'll be in Southie and in the clothes to which he has become accustomed. After this, it won't be the chair, but it will be living and dying in a prison-issued jump suit.