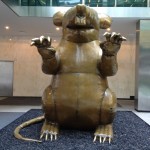 If you murder someone and you're caught, you should be willing to go to prison for doing it, especially if it is a planned murder, like the ones we have seen in this case. If you've murdered five or more people there should be no question of that happening although I'd suggest if you did that you should be willing to have your own life taken by the state. I'm not usually an eye-for-an-eye person nor much of a death penalty advocate but there are exceptions in my mind.
Charlie is Charles Manson  of Helter Skelter fame. He's now 78-years-old — the same age as Stevie Flemmi. I know he was a little mentally deranged but one thing he never did was to betray his friends. All our Boston born hoodlums quickly threw their friends overboard to save their own skins, sort of a cowardly bunch when you think of it, yet they've capture what is best described as a non-sexual prurient interest of many in the Boston area.
We've all heard the old saw: "Don't do the crime if you can't do the time."  Kevin Weeks told us Whitey had his own saying: "The idea of committing a crime is not to be caught."  Somehow I think that was the idea of the whole Winter Hill gang after the Race Fixing indictments scattered them to the wind. They had the idea they would never be caught; depending, of course, on their helpers in the FBI and state police to watch out for them.
Unfortunately for them, and fortunately for society they did get caught. After their arrest each one of them had a chance to show us his true character. Each one turned out to be a betrayer and a rat. That's the one thing low life Manson did not become. Pause and give that a thought.
The cream of the crud is Whitey, Stevie and Johnny – without doubt the the worst threesome in American history. All have turned into rats; a couple were rats all their lives. But there is no question that they are first class rats.
Whitey screams "I've never been an informant."  But he's one now despite his shouts of denials. Whitey knows he's going down. If not in this case in some other case but my sense now is it'll be in this case and the fall will be hard. Whitey's problem is the worse his lawyers make Martorano and Flemmi look, the worse he looks. After all they were his partners.
So since he's going down wouldn't you think that he would summons up just a little bit of decency that may have been hidden somewhere in his body and not betray the one guy who helped him all those years, especially the latter 16 when, as his lawyer said, he was living openly in Santa Monica, California, rather than turning on him.
John Connolly protected Whitey. He had the whole FBI office in Boston and FBI officers in DC protecting him. What did Whitey gain by turning on him, a Southie guy and the best friend he probably had?  He could have just as easily said I was never an informant but a good friend of John Connolly's who protected me because of our friendship. He didn't have to have his lawyers say he paid him $50,000 (which never happened because he was too cheap to do that) or any other amount. But no, he ratted him out for no reason at all but he made Connolly's attempt to get relief that much more difficult. So much for Southie idea of never forsaking a friend. Whitey left Connolly dying on the battlefied in a futile attempt to save himself.
Flemmi, his partner, is even worse. He lies about who his source was on the state police to protect his real source. He lies about the two FBI guys who tried to protect him over the years. But worst of all he blames Whitey for killing the two women he was involved with. He has this idiotic notion that somehow it doesn't look bad for him that he stood by unmoving and unhelpful while someone else murdered the two women he was intimate with. At least Flemmi didn't claim he wasn't an informant but that was only because he admitted when he thought it was the key to the doorway of freedom.
Martorano who brags about his murders and dealt with a prosecutor who lets him make big money telling how he murdered people clung to the idea he was not a rat, because you can't rat on a rat. He likens rats to Judas who ratted out Jesus and felt it was his job to be an avenging angel who would kill people who  were present day Judases.
Now we learn that he ratted on his brother for a murder and on Howie Winter and Pat Nee for other murders. Perhaps he should put back on the Judas disguise and take care of himself.
Weeks is the baby of the group but not when it comes to ratting. He gave up all that he knew so as not to do time in record time.
It turns out crazy Charlie Manson had more courage than these four. Pretty sad commentary on our local tough guys.