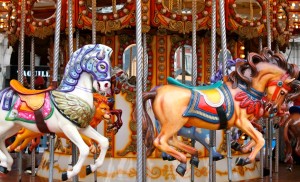 When Lehr mentioned that Whitey's brother Billy was Senate President and Prosecutor Brian Kelly said that "no matter how politically connected one is" and you add into that Defense Lawyer Hank Brennan's observation that Whitey ruled the organize crime world for twenty-five years without even being charged with a misdemeanor, the conclusion an impartial viewer would come up with is that there had to be some relationship between Billy's position and Whitey's immunity.
That falsehood is firmly believed by two other people who wrote books about these matters who also appeared in the documentary. Both are law enforcement officers. Both point to themselves as white knights who were in part responsible for thwarting Whitey's rule.
The first is the former Colonel on the Massachusetts State Police Thomas Foley. In the film he tells us that the Department of Justice was not going to do anything about Whitey until he threatened them to go public. I am sure you believe that when this sergeant or lieutenant on the State Police did this their knees trembled and they quickly fell in line.
He tells us that many in the U.S. Attorney's office "were in denial." He tells how when the arrest warrants came out the State Police arrested Flemmi and Martorano. He suggests FBI deliberately let Bulger get away.
Foley has a grandiose idea of himself. He has brought into the idea, which the film promotes, of a corrupt FBI and Department of Justice. He presents himself as the one unsoiled person seeking justice while the forces of evil oppose him. This idea of corruption, corruption, everywhere, similar to that of another white knight, Alan Dershowitz, (although he's not so white anymore) makes him wrongly slander many others.
In his book "Most Wanted" he tells how he decided to go after Whitey. He presents what he plans to do which is to start wiretaps at the lower level bookies and move up to the bosses as something novel. It wasn't. The State Police and others had been doing it for over a decade before he decided to try it.
He tells the story of going to Tom Reilly the DA in Middlesex County before doing his wiretaps. He said he did this because the DA will "kick in some funding" and "help you with the legal stuff for court later on."
Strangely, Foley omits the real reason why he went to see Reilly. He needed to get his authorization for the wiretap. The wiretaps by law must be done under DA supervision. Foley shows a great misunderstanding in this because the state police have no right to do wiretaps unless the DA authorizes and supervises them. 
Foley tells us Reilly gave him the OK. He then writes: "Even with" – I paused, trying to find the right word – "the politics?" ­I meant Billy Bulger, of course. He had a hand in Reilly's budget, as well as in the State Police's, Everybody knew: don't cross Billy."
What pure tripe and Foley knew it. No DA ever worried about going after Whitey because of Billy. I've mentioned how I was doing it continually. No state cop ever worried about it. Foley along with the FBI back in 1987 hindered us in going after Whitey. He wrongly investigated a trooper doing a wiretap with me which may have led to Whitey.
Here's what Foley omits. Another person who appeared in the film, Lieutenant Bobby Long of the State Police, unlike Foley a real state police organize crime investigator, who spent over six months going after Whitey doing the Lancaster Street investigation. He worked closely with Colonel John "Jack" "OD" O'Donovan who also had no compulsion in going after Whitey. Charlie Henderson who would also become a colonel in the State Police  would also have taken Whitey down in a heartbeat if he had the chance. The idea that the DAs or any State Police trooper feared going after Whitey because they didn't want to cross Billy is an outrageous slander upon all of them.
The other person is former FBI agent Robert Fitzpatrick. In the film he tells how he tried to get Brian Halloran into the witness protection program because he was giving the federal prosecutors evidence of murders by Whitey and Stevie. He tells us AUSA O'Sullivan turned him down and how he went over the head of O'Sullivan to Bill Weld the then U.S. Attorney in Boston.
Dave Boeri had previously told us that Halloran had his own problems having murdered a drug dealer and he wanted to make a deal by implicating Bulger and Flemmi in the plot to murder Roger Wheeler.  What Fitzpatrick fails to tell us is that O'Sullivan and others did not believe what Halloran was spinning out. They also knew that the Suffolk ADA Tom Mundy was not about to let Halloran off the hook for the Pappas murder. It would turn out Halloran had made up a story about Whitey and Stevie that would never have resulted in a conviction. Fitzpatrick was selling a pig in a poke.
Worse is Fitzpatrick's book where he tells of a meeting with Billy Bulger which was arranged by John Connolly. He said Billy "couldn't have been warmer or more gregarious." Billy treated him nicely as he did all the FBI bosses who wanted an introduction to him. This is common throughout our country where the FBI agents in charge and their assistants try to have friendly relations with political leaders.
Fitzpatrick wrote "we exchanged small talk, but nothing of substance .The subject of his brother never came up, and I didn't expect it would. Twenty minutes into the conversation Billy started checking his watch . . . [a]nd, like a dog on  leash, Connolly rose on cue." He shook hands with Billy who said: "Anything I can do for you while you are in town just call."
Then astonishingly out of the blue he writes that walking back to his office Connolly has a "smug look on his face the whole time, as if his point had been made: Whitey Bulger was not a man to be messed with . . . . " He goes on to say: "Billy Bulger was a bully using power in place of fists. And he wanted me to know I was alone, helpless against powerful forces I could neither control nor fully comprehend."
He writes as if he was forced to meet with him which he wasn't and that Billy had some type of water board machine in his office. You see how the defamation of Billy goes on and on by people who should know better. They have no basis for their assertions. They want to be part of the in-crowd. They are anxious to play into the theme set by the earlier writers who wrote with poisoned pens as is the documentary.