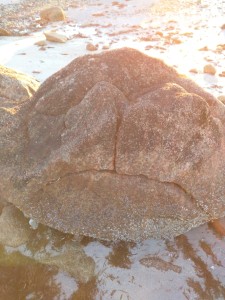 I've written how in the documentary AUSA Brian Kelly to justify the horrendous deals that the federal prosecutors made with defendants Martorano, Salemme, Flemmi and Weeks is compelled to magnify the importance of Whitey by saying he was involved in a reign of terror.
From a different perspective Lawyer Jay Carney adds into this idea when he states during the documentary, something he has repeated ad nauseam, that Whitey wanted to testify to the jury to explain how it was that he was on the top of the organized crime pyramid for 25 years and never once charged with a crime.
Along with that we have to consider the Boston Globe Spotlight article  of March 5, 1995, written by Dick Lehr and Gerry O'Neill the authors of Black Mass, a little more than two months after Whitey fled after being indicted for racketeering, which said an interception at the Heller's Café in Chelsea was "the starting point for a major racketeering case against the most elusive gangster in Boston history – – James (Whitey) Bulger of South Boston."
It was also the starting point of the myth that Whitey was more than an ordinary violent criminal who did not shy away from murdering some people.
I've shown how there was no reign of terror under Whitey. But there had been a reign of terror in Boston but that was back during the time that Whitey was in prison. In a short span of time in the early 1960s fifty or more men were murdered and those who took part in this were John Martorano, Frank Salemme and Stevie Flemmi who would become government witnesses. Unlike the murders committed by Whitey, these were highly publicized.  Life Magazine on February 24, 1967, contained photographs of 41 men who were murdered on the streets of Boston. No one called it a reign of terror.
In fact, if there was a terror after the 1960s it was between 1973 and 1982 at the hands of John Martorano who admitted personally murdering ten of the sixteen people attributed to Whitey during those days. But there again we had no terror since few ever heard of the name John Martorano during this time or connected any of the murders to him.
Far from being the most elusive gangster in Boston history, there were others such as Martorano, Flemmi, who bettered him.
As far as Whitey not being charged while he was on the top of the pyramid, the first thing to know is that he was there for fifteen years and not twenty-five. From 1970 to around 1980 it was headed by Howie Winter. Next, it really was not unusual for people to go long periods without being charged with crimes. Steven Flemmi was charged with murder in 1969 which charge was dismissed in 1974. From 1970 to 1995, a period of 25 years Carney could have asked the same question about him never being charged with a crime. John Martorano was charged in the Race Fixing case in early 1979 and he fled the state. He was not charged with a crime again until 1995. There is no mystery to them not being charged. For one thing, the evidence of them being involved in murders was not known until 1998. But there was a more important reason.
Whitey Bulger and Stevie Flemmi were FBI top echelon informants during the period. They were protected by the FBI who wanted them to remain on the street. Here's an example from the findings of Judge Wolf how that happened in the FBI.  FBI agent James Lavin was handed information against Whitey along with some photographs. "He perceived the potential for a promising public corruption investigation of Bulger . . .  Following his usual practice, Lavin reported what he had learned and received to his supervisor, John Morris. . . . Morris told him to "run it by" Connolly. . . . Lavin met with Connolly and related to him the information . . . Connolly confirmed that Bulger was an informant and told Lavin that he had provided valuable information. . . . Connolly suggested that Lavin not conduct any investigation. . . . Lavin complied with Connolly's suggestion. Contrary to the requirements of the FBI Manual and his uniform practice, Lavin did not prepare a 209 or any other written record of the information . . ."
The FBI had a procedure where anything relating to one of its top echelon informants was brought to the attention of the informant's handler. Inquiries that were relayed over the nationwide computer system used by every police agency in America sent to FBI headquarters relating to an informant were then sent on to the agent handling him. His job was to protect the informant. If a fellow FBI agent was looking at the informant, the handler would call him off. If another law enforcement agency inquired about him, the agent would let the informant know.
There was no grand conspiracy in the Department of Justice, as Carney and others would have it, to protect Whitey. It was done at the FBI level. It was done informally. It was not according to Hoyle. The DOJ prosecutors knew nothing about it. If the information is not conveyed to the prosecutors, then there will be no prosecution.
These suggestions of a reign of terror or years without charges or most elusive criminal are merely attempts to make Whitey into something he never was. Not only did the media and lawyers try to do this, so did the FBI itself. It made him one of its Ten Most Wanted in August 1999 as noted in the documentary.
No one ever seems to ask the question why was it that the man it knowingly protected from 1975 through at least 1991 suddenly was turned into such a top criminal. Where was the reign of terror?
Was done by the FBI as one part of a deal with the DOJ prosecutors? Making him such would justify their sordid deals with Martorano and Weeks; in exchange the prosecutors would go along with the FBI's "rogue agent" theory in order to protect its Top Echelon Informant program.
There was a reign of terror in Boston and that occurred back during the time Whitey was in prison.
There was a reign of terror in Boston and that occurred back during the time Whitey was in prison.