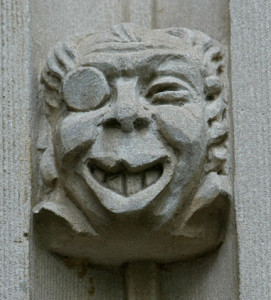 I find it interesting how people speak and do not recognize they are contradicting themselves. In the Berlinger film Prosecutor Brian Kelly sitting between two other prosecutors, Zachary Hafer and Fred Wyshak, is interviewed about the Whitey case.  He told us how "Bulger's reign of terror" was brought to an end by good cops. He also told us and the jury in his opening that Whitey ran amok for 30 years.
My idea of terror is that the person was doing something that is widely known and most people are fearful of him. I've mentioned before that outside of some in law enforcement, those in the criminal underworld, and  a good many in South Boston who knew of him but also knew that if you avoided doing business with him he would not bother them, Whitey was generally unknown during his heydays which would have been from 1974 when he teamed up with Stevie Flemmi up until 1995.
We've seen that of the murders he was charged with committing, the last one occurred in 1985 ten years before this so-called reign ended. That was that of Deborah Hussey which really was done by Stevie Flemmi. All the murders charged against Whitey occurred in two discrete periods: 1973 to 1976 when Whitey was pretty much a nobody and certainly not in charge of any gang; and then after five years passed, 1981 to 1985. And, of those murders, it is more probable than not that Whitey had little or nothing to do with over half of them.
Hardly can this be called a reign of terror when few were in the line to be terrorized. Even less so can it be labeled such when no one knew murders were being committed by Whitey.
Prosecutor Kelly a little later in the documentary film explains the deal that he gave Martorano. He agreed that he got a pretty good deal saying he is a ruthless killer. He didn't explain why he gave a ruthless killer $20,000 when he was released from prison. What he did say which was one of the gems I was talking about is that at the time they made the deal – which was in 1998 "we had no evidence of his killings."
Where then is a reign of terror when the federal prosecutors and their investigators admit they had no idea of any of the killings Whitey had committed?
When the Boston Globe did a series called The Bulger Mystique on Whitey and Billy in 1988 there was no mention of him being engaged in a reign of terror or having murdered anyone.
When Whitey was indicted in 1995 he was not indicted for any murders. No one mentioned a reign of terror. Another article in the Boston Globe on March 5, 1995, two months after Whitey left town, fairly spelled out all that was known at the time about Whitey.  He was a strong-arm guy involved in booking and perhaps drug dealings. Nothing was mentioned about murders or any reign of terror.
It is through the magic of the media in conjunction with the prosecutors and authors that Whitey's life has been rewritten and he has been turned into a legend through puffery and lies. Whitey operated clandestinely with limited effect outside a small criminal element. He was made larger than life because of the need for prosecutors and media types to justify the deals made to other criminals against whom Whitey's evilness paled.
That is why it is grossly unfair for Catherine Greig who fled with Whitey in 1995 to be sentenced to eight years in prison based upon the idea that she was harboring and aiding a person who was a murderer. We know that was in part the basis for her sentence because at the time of her sentencing the family of the victims of Whitey paraded into court and castigated her for having been with him.
It is also highly inappropriate to suggest that somehow Billy Bulger, Whitey's brother, would have known that his brother was a murderer. There is little doubt that he knew he earned his living by running a gaming enterprise but judging on his book written in 1996 , While The Music Lasts, where he talked about him he suggests he heard "lurid allegations" and "dark rumors" but attributed them to political attacks on himself.  Those rumors would have been about his strong-arm tactics running his gaming operation.
What is most amazing about all of it is not that the media, the prosecutors, the judges, and Hollywood could make a silk purse out of a sow's ear, it is that Whitey himself believed the propaganda put out about him. He believes he lead a remarkable criminal life when he was little more than a blood thirsty local hoodlum who left no footprints behind him outside of the imagination of those who profited from him and the suffering of some of the families of his victims. Had he never existed little would have changed. That he could be made into this super criminal is stunning to those who know his true story.