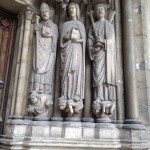 Step back and count the number of books and lines in the media that have been written about Whitey and ask yourself why is that so? Is it because he is the most masterful criminal who has ever existed in America? One would have to think so by the coverage.
We all know what the N.Y. Times motto is: "All the News that's Fit to Print." And one can see the Boston Globe's motto which used to be affixed on the wall of its editorial room but is now carried in the hearts of some of its reporters and columnists: "Don't Let the Truth Stand in the Way of a Good Story."
The Globe true to its motto did just that when it came to Whitey. It elevated him to number one on the FBI's most wanted list and has had its staff continually telling us how he is America's number one gangster. It had at least three reporters covering his trial on a daily basis and tweetting (if that's the word) the story out to the masses.
Truth be told, Whitey is far from the worst gangster that has ever existed and is way down on the list of most murders committed. How then is it that he has achieved such an elevated status?  I suggest it happened because of multitude of half-truths put out by the media which is greatly influenced by the Globe's motto.
The internal contradictions in the media's telling of the Whitey story, caused in part by the need of all the Boston media to conspire to tell the same story, is such that obvious inconsistencies are not seen by people writing the tales. The most glaring of which has continually been the story developed in Black Mass with the imagined meeting and conversation at Wollaston Beach in Quincy between FBI Agent Connolly and Whitey. On one page the authors say Whitey was recruited to help the FBI in its fight against the Mafia and on the next say Whitey had no information to give on the Mafia.
As far as being a gangster is concerned, Whitey stands no where near some of the Mafioso who have run the rackets in America for decades. There have been articles attributing the number of murders to some efficient Mafia killers of far above fifty. The Mafia's territory and number of people far exceeded anything Whitey could ever have dreamed of controlling. When it comes to the Mafia bosses, Whitey is strictly nickle and dime.
Even within his own group Whitey was not the top man in murders. John "Murderman" Martorano admitted to doing twenty, and, some of the murders attributed to Whitey were done by Martorano and Whitey was just part of the gang. Steve Flemmi murdered more than Whitey and was more depraved murdering two women he had a close relationsip with. He like Martorano were well into murdering people while Whitey was in prison. Over their lives their depravity and murders far exceeded that of Whitey. Even by one measure Kevin Weeks was more evil than Whitey. He was involved in murdering people at a much younger age than Whitey having admitted to participating in five murders at a time Whitey had committed none.
I know you don't want to hear this but growing up Whitey was a small timer. He was no different early on than kids I rubbed the shoulders with standing on the corner of Sydney Street and Savin Hill Avenue or playing cards with at the Shelter or up the Woods. He started off as a juvenile delinquent whose crimes were more the nuisance types of clipping stuff and being a general wise guy.
Some in the media point to his arrests and figure he has a secret hand helping him avoid incarceration. Truth is the cops arrested kids who wised off for no reason other than that. That's why Whitey ended up being arrested and not going to Shirley or the Lyman school. He wasn't any different than the hundreds of kids with fresh mouths.
Up until the time he started robbing banks, he hardly distinguished himself from any other troubled youngster. He was a wise guy thief who hung around the bars and sidewalks of Southie and downtown Boston. He went into the Air Force not because of any sense of patriotism but at a time there was a draft and most healthy young men had to serve.
He got an honorable discharge – then returned to Southie and got back into his low level criminal tail gating and high level drinking. He was like hundreds of other guys by this time in his life; the attempt to put a shine on a sneaker shows how little experience these media people had with inner city living. I'd say at the time half of the state prison inmates were guys with a similar backgrounds.
Whitey, unlike most of the young hoodlums who in their twenties settle down by getting married or just tire of the foolishness and find a half-decent job, seeing all the younger kids like the Mullens were pushing him out of his tail gating business, had to do what a handful of others decide to do: start robbing places. A lot stick to stores or gas stations, Whitey went were the money was which is to the banks.
He did at least three robberies and then got jammed in when a couple of the guys he did the hold-ups with decided to ease themselves out of their difficulties by jamming in Whitey. We hear from the media the foolishness that having been put in that position he became an informant when the truth is he admitted his role to protect his girlfriend. It is a unique concept of what is an informant to suggest that when one confesses he becomes an informant. The medias mendacity makes it find the worst in everything Whitey did and the witting media conspirators follow the lead.