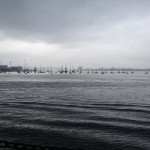 It's over. It ended with Whitey speaking in a surprisingly non-gangster like voice which seemed to contradict the picture we had of the man. If it were a movie a man with a voice like his would never have been cast in the role of Whitey. Whitey told the court he was not giving up his right to testify voluntarily. The court had taken his right to testify away when it ruled that his defense that he had a promise of immunity would not be admissible at the trial.
I think his decision wise. I listened to him talk to the judge. I didn't remember every word but I thought I heard him say "do what you want with me." Other news sources reported what I heard. The official transcript says he said, "and do what yous want with me." He was using the South Boston plural for the word "you" which adds an 's'. This is accepted as shown by dictionary.com but hardly something in popular use.
It is amazing that this one incident of Whitey deciding not to testify caused a media madness that induced the usual suspects to come rushing out of their dens intent on spewing forth their vile venom exposing their inner bias, this from a supposedly responsible media.
Whitey must be  roaring with laughter at these media enemies crying about their inability to have a chance to distort what his testimony would have been. The Boston Herald did an editorial on his refusal belittling his claims but then concluding ruefully, "Guess we'll all just have to wait for the book."
Herald Columnist Howie Carr said the usual nasty things about him and took the opportunity to take a shot at who he'd prefer to have been on trial, his brother Billy, suggesting Billy's name was mentioned as much by the federals as Pat Nee's by the defense team, hardly a true statement, but as we used to say about Manny Ramirez, "that's Howie being Howie."
Peter Gelzinis in the Herald also brought in Billy's name. He wrote: "But on the way out, [Whitey] did screw up our summer. At least Billy and the rest of the clan can smile about that." 
That's what Whitey finally realized. Had he testified he'd be giving comfort and aid to people who want to destroy not just him but his siblings, his nephews and nieces. Only in a small parochial city like Boston could such a malicious cabal exist among media people in its two main newspapers to reach out beyond the person who was the criminal into his family. Guilt by blood, an old world concept long ago discarded by most right thinking people has resurrected its ugly head in Boston.
Kevin Cullen at the Globe took Whitey's refusal to testify the hardest judging from his words. He uttered the totally inane statement: "in the end Whitey didn't have the courage to explain himself." Explain himself? His lawyer told us he's a vicious gangster who ran South Boston's rackets and took a cut of the drug dealers' profits. What is there to explain?
He then asks: "what did Whitey have to lose?"  That's easy to answer, for one thing a substantial book advance and royalties on his book. When he realized Cullen could write another book based on his testimony, Whitey decided he was through filling his enemies pockets with coin. He also knew his family would be unfairly brought into his trial.
Like Howie, Cullen can't restrain himself from mentioning Billy Bulger. Reading Cullen's column shows the wisdom of Whitey's decision. He'd have no control over the prosecution asking questions with Billy's name in them and even though his answers would deny the prosecutions assertions, as we saw with Agent Fitzpatrick, a POOF, the question was what was reported and the denial ignored.       
Most amusing about Cullen was how he ended his column. He wrote, "Whitey's trial wasn't a sham. His life was." Yet Cullen wrote a book about it. What does that tell us about him?
Cullen quotes Tony Cardinale a respected local attorney who has become a close friend of Howie Carr and could be expected to view the trial from that perspective. He allegedly said: "He's lying when he said he couldn't say he got immunity. He could have said that from the stand. He's a liar."  
Cardinale knows better. For a witness to say anything and have it believed he has to have corroborative evidence. The judge had ruled out all the evidence which would have supported Whitey's claim. If I testified you and I had a contract, I'd need to bring in other evidence showing our relationship and how people acted in regards to us and what was done pursuant to the deal. It wouldn't be enough for me to merely state the contract existed and do no more. That was Whitey's dilemma, he could testify to it but was barred from bringing in evidence to support his claim.
Howie Carr for all his prejudices does see through the fog and cuts right to the core. He wrote: "And can you only imagine how many questions the feds would have asked him about his brother Billy." 
Yes, Howie, that's exactly why Whitey finally stopped thinking of what was best for Whitey. It's true Whitey fantasized about going out like Cody Jarrett in "White Heat" as Howie said. He was going to take the stand and tell his story. He knew Wyshak could not touch him in cross-examination after he watched his bumbling performance with Heather Hoffman.
But to do that he also knew from Kelly's out-of-the-blue question in cross-examination of retired Special Agent Jim Crawford whether Billy Bulger was at John Connolly's retirement party that the trial was no longer about him. His trial was over before it began.
The prosecutors were after his brother and his family. I'm sure in conversations with his lawyers J.W. Carney and Hank Brennan they told him he could expect questions like: "Did you discuss the murder of Bucky Barrett with your brother Billy before doing it? or "Did you place the machine guns in the cabana behind Flemmi's mother's house because you knew Billy could keep an eye on them?"
You get the idea. The headline in the Globe would read: "Prosecutors allege Billy Bulger was tipped off Bucky Barret was to be murdered and used his position as senate president to protect the gangsters arsenal."
Whitey, for the first time in his life, didn't think of what was best for him but what was best for others. (Perhaps it was the second time in his life. He did offer to plead guilty if Catherine Greig was not given time.) That probably took a lot more courage fighting against his delusions of grandeur than anything else he had ever done in his life.
Like Howie reminded us, we never knew if Rocky Sullivan in "Angels with Dirty Faces," was really frightened or Father Pat O'Brien talked him into it." Here we do know. He wasn't frightened as we could tell by the cool and respectful manner in which he spoke to Judge Casper. He talked himself into it realizing the best way for everyone involved, even though it was not best for him, was to tell his story in a book.