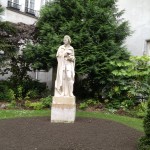 The federals didn't think he was a big shot after all. Had they, Whitey would have found a home in ADX, Florence, Colorado where all the big shots go like . The federals didn't consider him as being a real bad guy unlike what we've been spoon fed. The Bureau of Prisons checking thoroughly into his background figured he should end up in Tuscon, Arizona, with a bunch of nobodies.
Wikipedia tells you all about his new home. Whitey tops the list for high-profile inmates. It says this about him: 'Former leader of the Winter Hill Gang in Massachusetts and FBI Ten Most Wanted fugitive; apprehended in 2011 after 16 years on the lam; convicted in 2013 of ordering 11 murders, as well as extortion, money laundering and drug trafficking." Mentions nothing about his being an FBI informant; perhaps we are supposed to not know that.
Most of the other inmates mentioned in the article are either doing life or will be getting out sometime in the 2040s or 2050s. Two former cops are there, a fair amount of sex offenders, the usual group of drug dealers and murderers. One thing that Whitey may like is that there seems to be some contact between inmates because in 2009 several of the inmates got into fights with improvised weapons. In ADX, Colorado there was no inmate contact.
Another thing good about the Tucson prison is it is close, about an hour's drive, to Tombstone, Arizona famous for the fight at O.K. Corral and its Boothill Graveyard. It's interesting to read about those buried there, many Chinese, many killed by Indians, and others in gun fights. Margarita who was stabbed by Gold Dollar at the dance hall fighting over a man and Killeen who was shot by Frank Leslie in an argument over Killeen's wife also reside there. Leslie would marry the widow. This may provide an incentive for some to visit Whitey.
One would like to say that's the end of Whitey but it appears he'll be able to send his letters from his cell to his many admirers. I suppose he will still be able to avoid the federal restrictions on communicating with his girl friend Catherine Greig using his lawyers as couriers. I was surprised Carney was in the business of transporting these letters; he says there was nothing illegal about it but why take the route he took if it was fine. If it happened at the time reported in the article. Greig left Rhode Island in June 2012 so Carney was doing this early on in his representation.
Although I have to admit this gives a clear insight into the person of Whitey Bulger: he weeps cause he misses his girlfriend and ignores the plight of his victims. Carney told his audience that Whitey told him that one of his greatest regrets was never marrying Greig; no regret over the people he murdered or the lives he ruined. That's the type of man he is; a sad commentary on what a human should be.
The article also notes that Brennan is still representing Whitey. Carney has gone on to some other ordeals. Brennan assured his audience that Whitey will win his appeal. Brennan's a good guy so he has to spout the party line but he knows Whitey has no chance. The imaginary meeting between Whitey and O'Sullivan where the alleged deal was made: you know, that O'Sullivan told Whitey he could murder people if he felt like doing it and O'Sullivan would protect him could not be upheld even if Whitey had a recording of it. The president doesn't have the power to let people be murdered; at least that was the situation the last time I looked.
There's an even greater problem with justifying Whitey's actions based on Brennan's assertion is that what is called an offer of proof was not made to support it. Whenever a judge tried to hone in on it, the subject would change. Without having before the court who said what to whom, the court can't decide the issue in the abstract.
I've no interest in the appeal. I see Whitey has the same chances of getting relief as he would to win the lottery. I know he did win, but that was at the end of a gun. I don't think he has one in Tuscon.