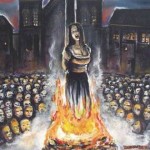 Last night Jerome wrote to me: "Whitey Bulger was moved to a Florida prison. Is it possible he will go on trial in that state and they will ask for the death penalty? "
Minutes later Jim wrote: "Looks like Jim Bulger got moved to a high security prison near orlando in florida, any reason to why this may have happened?  Heard he was in the "no good unit:" I.E. with elizabeths smarts kidnatpper etc. Any idea why he got transferred?"
When I received these I must admit I was surprised that he had been moved. Whitey's 85-years-old and moving him from Arizona to Florida was not because the feds want him to enjoy one of his last winters in nice weather. It also isn't because they were unable to handle him in the Tuscon prison. Nor would it be just a routine matter. Remember it took a while for the Prisoner Minders to decide where to place him. He was in the federal facility in Brooklyn, New York; and then out to Oklahoma and finally to Tuscon which was to be his final resting place until he completed his sentence.
Now keep in mind he is in federal prison and the prison keepers are not nice people. In civilized countries when a person is sent to prison that is the punishment for his crime; in the federal system the prison keepers seem to get their kicks out of imposing other punishments on their wards like the bus ride where prisoners are buckled into seats for 12 to 14 hours at a time while the bus slowly moves from place to place. I see that Whitey left Tuscon on August 29 and had a layover in Oklahoma. Then he arrived in Florida. It seems he must have been on the bus so perhaps the trip was just a way some of the Prison Minders could add a little misery to the old man.
But I don't think it could be that alone that caused him to be moved. Remember, in the minds of the federals Whitey was more than a person who committed horrible crimes he was one against whom some in the Justice Department had a personal hatred. I know the members of the Department of Justice are not supposed to be vindictive but I also know some are human and full of venom and when they get someone in their manacles they get a little thrill out of doing all the evil they can against the person. So keeping all that in mind, here is my conjecture on the situation.
The federals have persuaded the Florida authorities to activate the John Callahan murder case against Whitey which calls for the death penalty. It is not because they ever expect that he will be executed because if you project the time that would pass leading up to the trial, and if he were convicted, the time it would take for an appeal on a death case, and the additional time prior to the execution, one could not reasonably to believe Whitey would still be among us. And if he were, when was the last time a man in his 90s was executed?
So what's behind it you may wonder. It seems to me it a federal tactic to put pressure on the Florida Appeals Court to keep John Connolly the FBI agent who was wrongfully convicted for murder in prison. Connolly's been in prison since 2002 and many in the FBI and Department of Justice want to make sure he dies there. The Appeals Court is deciding his case now. They must believe that bringing the notoriety surrounding Whitey and his evil life will accomplish their ends. I can see no other reason.
It's a sad commentary on the ethics of the federals that if I'm correct they would engage in this type activity. It shows you the malice in their hearts and that their interest is not justice but vengeance. It's a warning to all of us that there are brutes in the prison system and in the justice system. One must always do his best to avoid them. Like the FBI, the Bureau of Prisons has no one supervising it.
According to the bureau's inmate locater Whitey is at USP Coleman II, a high security U.S. penitentiary with 1,448 others.