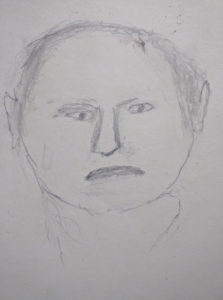 Writing about South Boston (Southie) brings Whitey back to mind.  He was born on September 3, 1929 which makes him just about a dozen years short of 100. I was wondering whether doing time in prison shortens or lengthens the average life span of a person. There is the lack of stress of having to earn a living since the government provides you with three hots and a cot (although under the new president Mr. Tweeter I'm told that there may soon be a work requirement for prisoners if they want to eat) but up against that there's the lack of freedom and the usual tension of being bossed around by brutes in uniform both prisoners and guards.
I wrote to Whitey asking for a visit but he never got back to me. The last I heard a little less than a year ago is he is in wheel chair so that has to be a real bummer to a guy who liked to keep himself in shape. I wonder if they let him turn the lights off at night?
For me, the worst part of being in prison would be the idea that I was with the people who society believed were the worst among us coupled with the constant noise and being bossed around by guys who were little different from the guys who I was incarcerated with.
A long time ago I was a clerk of court working in Norfolk County. I happened to be handling the first criminal session where the prisoners who were involved in the Walpole prison riot were being tried. At one time there were 16 of them. Unlike in Suffolk County at the time we had to work on St. Patrick's Day. The judge handling the trial was Judge Edward J. DeSaulnier who had a refreshing approach to sitting on the bench. He recognized that handling a trial with 16 defendants and 16 lawyers was a little unwieldy. He called me into the lobby and told me he was going to have a St. Patrick's Day special today. Any defendant who wore green and wanted to plead guilty would get a slap on the hand. Before the day was out half of the defendants had pieces of green blotters fastened to their prison garb and bailed out of the case.
I recalled that because when there were eight remaining defendants behind each one in the courtroom stood a prison officer or a police officer.  One of the lawyers commented to me that you could swap the guys who are standing for those who are sitting and it would not make a difference to society. Perhaps, I thought. I knew people as bad as the prisoners but they had not been caught. That makes all the difference in the world.
It is hard to see how Whitey would see his time on earth extended by his prison experience. Although I did know a guy from my neighborhood named Henri who seemed to prefer prison over the street. He like the structure it gave him but mostly having been in prison most of his life his friends were there. But that would not be the case with Whitey. He is so old that behind the bars he won't find any old-time friends. He's with the young gangsters which cannot be very pleasant unless perhaps he thinks of them as the grand kids he never had.
We've often heard how Whitey was on the lam for 16 years but most of that time the way he was living was hardly different from what he is now experiencing. Sure he had Stand-up Catherine with him but he lived in constant fear of being caught. He no longer has to worry about that so maybe his earthly time is extended. Is his night sleep any better now that he does not have to peek out between the shade and the sides of the window to see if anyone is lurking in the area?
I wonder if Whitey ever reflects upon what a mess he made of his life. Remember Whitey lived over forty years as far as we know before he committed his first murder.  I don't suppose being in prison with no chance of freedom is the position most people would want to go over to the great unknown side from. What a thought never to be able to walk where one wants, to bend over freely to pick up a piece of grass or to smell a rose, or to wade through the ocean waves.
We'll never know if he thought it was all worth it. I have to guess we'll soon be reading more about him. Those articles will be in the Irish sport pages.