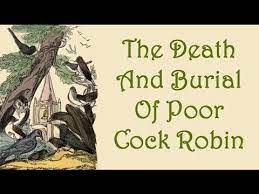 "Who Killed Cock Robin" is an English nursery rhyme.  It came to mind because both Henry and Maria called my attention to an article in the Daily Mail of London telling about an inmate who is complaining that he has been held in solitary confinement since the death of James "Whitey" Bulger.  Unlike Cock Robin where: "All the birds of the air fell a-sighing and a-sobbing, when they heard the bell toll for poor Cock Robin" there were few jailbirds doing any lamenting when they heard about Whitey Bulger and no bells tolled.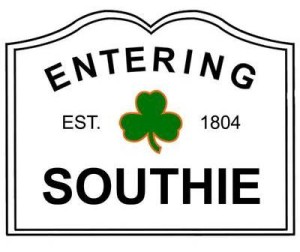 I welcomed the article coming just before St. Patrick's Day on the 14th of March as it brings back memories of South Boston and the parade and the big breakfast before it full of laughter. Those were the days when Whitey strutted his stuff around Southie under the protection of the FBI reaching his heyday after becoming a top level informant in 1975 until the mid to late 1980s. At that time he had solidified his hold over the criminals dealing in gaming and drugs and settled down into a life of relative leisure in his home neighborhood.
His flight in December 1994 at age 64 bid those days goodbye. It was almost seventeen years after his capture on June 22, 2011, before he returned to Southie at age 81 in handcuffs and leg irons.  Seven years later he would be murdered at age 89.
The last 25 years of his life offered him very little: 17 on the run, hiding out, looking over his shoulder; 8 in custody and in prison.   To keep in the English vein, one lesson Whitey never learned was set out by Thomas Gray: "The boast of heraldry, the pomp of pow'r,  And all that beauty, all that wealth e'er gave, Awaits alike th' inevitable hour. The paths of glory lead but to the grave."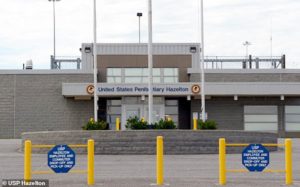 Whitey as you know was transported out of Florida – where he was in solitary confinement – supposedly on his way to a medical facility in Texas – but ended up at Hazelton federal prison in West Virginia on the evening of the October 29, 2018 and was found murdered at 8:25 a.m. the next day.  I wondered why those who murdered Whitey were never prosecuted.
The article tells us the answer. It appears that the federal prison authorities think they know who did it but cannot prove it. The complaining inmate is Sean McKinnon. He is being  squeezed by the prison authorities but he insists he saw and heard nothing. Why are they doing a full court press on McKinnon? It is because his cell mate Fotios 'Freddy' Geas, 54, is suspected of being one of Whitey's murderers.
Strangely McKinnon is now in the solitary cell with Boston gangster Paul DeCologero, 46, also suspected in Whitey's murder. It is not clear who was DeCologero's cell mate at the time of the murder.  Whitey's cell mate who ended up in solitary, Felix Wilson, was released after six months when his sentence came to an end. As it said in the article: "All men deny involvement with Bulger's death." Those who did the murder are naturally going to deny it. Those who witnessed the murder are going to simply say they know nothing about it not wanting to end up like Whitey.
There apparently is no video showing folk entering Whitey's cell and leaving as reported because that would make things simple. There is no way the prison authorities can without a video show who entered his cell at the time of murder. The union leader of the employees said 'In general population, you're in a housing unit with 120 inmates and they have full access to you." 
Yet there must be first of all way to determine how anyone would know Whitey had arrived at the prison? How would anyone know he was going to be put into the general population? Next, there must be a reason why Geas and DeCologero are the prime suspects.  Geas serving life had little to lose; DeCologero due to get out in 2026 did. Time will tell but it looks like no one saw nothin so there ain't going to be no prosecution for Whitey's killing not that any care.
PS:
If you received your $1,400 from the U.S. treasury and have a spare $300 to throw on top of it you may consider buying a signed Christmas card from Freddy Geas.