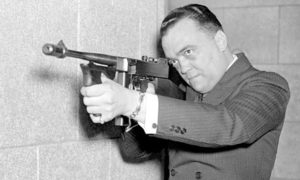 There is a great article in the Boston Globe on the killing of Jack Kennedy
here
.  I read it first thing on Thanksgiving morning when my brain was mostly in gear. Some of the facts in it I had read before but there was much that was not so much new to me but put together in a fashion that better connected it.
Any reader of the comments to my articles knows one regular is msfreeh who has a deep distrust of the FBI. Yet even ms has not suggested that Hoover was involved in the hit on JFK. Nor did any part of the article in the Globe that motivated this post make it.
Here is one thing that is almost a certainty in my mind. It is based on my experience in the Platoon Leader Class in the Marines where we spent a day or two dry firing and then went off to the range for live firing to determine our level of skill with the M – 1 rifle. There were three levels: expert, sharpshooter, and marksman.
Lee Harvey Oswald who was in at the same time I served also would have qualified with an M-1. He was a marksman which was the lowest level one could achieve. I also was a marksman. I had never fired a rifle like an M – 1 before (I fired a .22 owned by my buddy Dick Doherty less than a half-dozen times and a BB gun like Ralphie in the Christmas Story).
During dry practice they emphasized to hold the rifle as tight against the shoulder as one could before pulling the trigger. When I laid in the prone position ready to pull the trigger for the first time I decided it was more comfortable holding the rifle a couple of inches away. I pulled the trigger and the recoil into my shoulder was like being slugged with a hammer. After that I held it tight but the pain of doing it was excruciating. We fired from 500 yards away at fairly large targets.
My point is that a marksman badge was pretty bad when it came to skill with a rifle. If you are a marksman it means your ability to hit a bulls-eye much larger than a person's head that is not moving is non-existent. You are lucky to hit the target and probably get a fair share of "Maggie's drawers."
How then could a person skilled only as a marksman hit a moving target like the head of JFK from such a distance. It truly is impossible. For him to have been shot liked he was would have required a skilled rifle expert.
It therefore had to be an expert who fired the gun. Oswald was set up. Involved in the set up was Hoover.
Why Hoover? If you read the Globe article you will see how it suggests other groups were involved in the assassination: the Mafia, CIA, Castro, anti-Castro, even LBJ. The finger is pointed at them because they all had great animus toward Kennedy. One person with as great and even more than anyone mentioned was Hoover. Yet it seems he is never considered. Why is that?
Do you recall what he did right after the killing? He told the assistant AG that he had ordered the FBI to consider Oswald as the sole killer and not to look for anything beyond that. They had the patsy, no one would beyond him, and he would be silenced by a Mafia connected night cub owner.
Hoover's buddy LBJ would take over. Bobby Kennedy would become a lame duck AG with no power over him. And J. Edgar's future was assured since he controlled all the investigations.