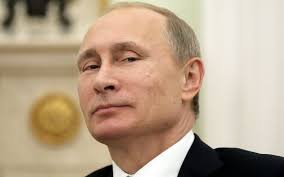 We might be unable to learn from The Trump's tax returns about his investments and dealings with the Russian oligarchs and Putin himself but there is one party that has all that information and that is Putin.  The Russians are well aware of Trump's history with them and they know with the littlest of effort they can prove him to be an outright liar and cheat.
Trump knows that too. He knows that a simple word from Putin shows that his whole act has been one big lie and that he has partnered with and gained help from Russian sources throughout his campaign. It is now time to pay the piper to hold the secrets from the public. It is a classic case of being blackmailed. Trump now has to do what the Russians want him to do or they will destroy him and his financial empire.
Truly there is no other way to explain what is happening with Trump. Is there any way a man not being blackmailed would take on the American intelligence agencies and prefer the word of Julian Assange a man who is probably secretly indicted in America (that's why he is holed up in the embassy in London not wanting to be returned to Sweden who he expects will turn him over to the Americans) on many life in prison felonies.
What had Trump to lose by not getting in this battle? Nothing. It is entirely unnecessary but if other forces are telling him to discredit American intelligence (and who would be telling him that) so that the American people will distrust the American intelligence reports (like it was Russian soldiers dressed in plain uniforms that invaded Crimea or it was the Russians running the uprising in Eastern Ukraine who shot down the civilian airliner) then the sluice gates are open for false propaganda and lies leaving Americans to spin in confusion.
Trump has become a Russian propaganda arm. He is giving the Russian state television RT a run for its money. Yet no one wants to know why he is compelled to do these things that make no sense.
We are in dangerous times folks when our president is being blackmailed by a country that has been a traditional enemy. When our intelligence sources tell us that the Russian forces are prepared to invade Estonia or Latvia and Julian Assange (along with Fox new's Hannity and O'Reilly) tell us our intelligence agencies are not to be believed and Trump seconds that then Russia is being given a free hand to rape and pillage.
Don't you see how unnecessary Trump's fight with our American intelligence agencies is? How else explain it. But it is worse because already much damage has been done.
Look at it this way: would you want to serve in any American intelligence agency in an undercover capacity or be an agent in the employ of an American intelligence agency knowing that your identity could be disclosed to our enemies by the new administration? When Trump is in charge and his appointed head of the CIA want to know the identity of our spies who will prevent them from learning them? Would you want Trump to know you are working in Russia for America? Would you trust him with not disclosing your identity to the government in the country where you are working?
Another way to look at it: are you comfortable knowing that Trump is going to learn how we gather up our intelligence? Will our intelligence agencies disclose to him our top secret methods used knowing that he is being blackmailed by the Russians? How do you run a country when you distrust the people who for years have been protecting it?
Our nation is at risk.