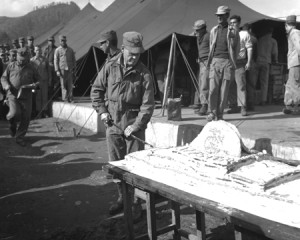 Yesterday when I looked at the calendar and saw that today was November 10th I asked myself why is that date significant. I knew something happened around that time — a family birthday, an anniversary or something else that I should remember. I reviewed the birthdays and anniversaries in my mind and nothing rang a bell. I wondered about Pearl Harbor? No that was in December; 9/11? No that was in September.  What was bothering me?
Finally, I figured it out. November 10 is the Marine Corps birthday. Thinking of that I remember last year I totally forgot about it. This year too it almost passed as an unlighted ship in the night.
During the summer I received a notice from the Semper Fidelis Society of Boston that this year's luncheon celebrating the birthday is going to be celebrated on November 13. The cost of attending it is $85.00 which for me is a little steep even though any profits from it goes to the Marine Corps Scholarship Foundation. I'd gladly come up with the dough if the my tradition of honoring the Marine Corps birthday was a long standing one rather than something that has come into vogue after my time.  In Boston the luncheon was not begun until 1987.
My recollection is that when I served in the Marines very little was made of it. My first year on active service at Basic School in Quantico there was a formal dinner for us new second lieutenants. We were required to wear our dress whites — all white uniforms that could only be worn once and then laundered. I'd never wear it again after leaving Quantico.
What I remember most about that dinner is they served French onion soup. I had never had before. I stared at the piece of French bread topped with cheese floating at the top of the soup and dug in. I knew I had found a favorite soup.
After that, when I was in Japan and back in the states in South Carolina I don't remember that it was a big deal. I guess you could say I was in the old Corps. My officer number, before they switched over to social security numbers, was under 80,000;  my enlisted number was under 1,650,000. It was nice knowing how many Marines had joined before me and where I stood in the ranks. That is the tradition the Marines should have kept. I guess in its place the younger Marines having no connection to its history so they have decided to come up with a birthday celebration.
The date November 10 goes back to what we were told was the date of the founding of the Marines. This year marks its 240 birthday which means it was founded in 1775. Appropriately, the locale of its founding was Tun's Tavern, also known as "Peggy Mullan's Red Hot Beef Steak Club," The Second Continental Congress authorized the raising of two battalion of Marines who were good seamen during the Revolutionary War.  When the war ended in 1783, the Navy was disestablished, and with it, the Marines. It was re-established fifteen years later on 11 July 1798.
In 1921 the idea came about to have a celebration every year on November 10.  Marine Corps order number 47 established it. It  read in part, "This high name of distinction and soldierly repute we who are Marines today have received from those who preceded us in the corps. With it we have also received from them the eternal spirit which has animated our corps from generation to generation and has been the distinguishing mark of the Marines in every age."
As I said except in Basic School those birthday celebrations never happened around me. That's why the birthday can slip by me. That's not to say the tradition was not continued. As is shown in the photograph on this page, General Chesty Puller celebrated  it on the battlefield during the Korean War.
One day I ran into a judge who told me that when someone says they were in the Marines the way she determined if they are telling the truth is to ask them the date of the Marine Corps birthday. She was surprised when I told her I never really knew it until recently. I assume the Marines during my days would have had trouble coming up with the right answer.
Anyway, having thought of it I could not let the day pass without writing about it. Happy Birthday to all Marines who celebrate the birthday. 
PS:
You want to know how bad it is. I originally began to write this post thinking the birthday was on November 11. I then had to figure out why I thought the 11th was the day. Then I recalled that was Armistice Day – the cease fire was to go into effect on the 11th day of the 11th month at 11:00 a.m.  Unfortunately, some very unlucky American men were killed during the tenth hour of that day.