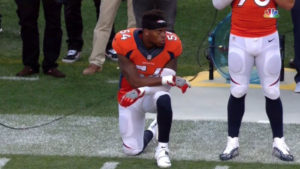 The Kaepernick nonsense of protesting America by showing disrespect to the American flag during the playing of the  national anthem continues. Its noxiousness spreads to other teams. The National Football League likewise shows its disrespect to America by allowing its employees to continue their actions. The great number of American fans who overlook the NFL's and its employees' vile actions also show disrespect for our country.
As long as they continue to support the NFL by buying game tickets, watching the games on television, and gambling on the games they are saying it is all right for the NFL to publicly show its contempt for America. This is so because they know that the NFL could stop these disrespectful actions in a moment's notice. We know this because the NFL controls every aspect of the employees' actions while on the field.  I've written before of all the restrictions it places upon an employees' free speech rights by controlling even what one may wear under his helmet or on his face.
The NFL provides its employees the big stage upon which they perform. None has the right to be there. The NFL is allowing these employees to demean America. It sends a loud message to all Americans that it too believes the American flag can be dishonored during the playing of the national anthem by refusing to stop this.
Thursday night Brandon Marshal described as a key member of the Denver Bronco's defense and an all-pro player took a knee when the national anthem played. The NFL said: "While we encourage members of our organization to stand during the National Anthem, we understand and respect it being a personal decision."  Yet when a player wants to wear face paint that is prohibited.
The Broncos coach Gary Kubiak said he is supportive of Marshall's decision not to stand. "Brandon is a great kid. He is a leader of this team. I believe in my players." Too bad he does not believe in showing respect for the American flag.
This all started with Colin Kaepernick as you might recall. He was protesting the racial policies of the United States. It went on with a woman professional soccer player who was protesting the American treatment of gays.  The Denver Bronco's Brandon Marshall gave as the reason for his showing of disrespect: "I'm not against the military. I'm not against the police or America. I'm against social injustice."
Are we to assume all those who stand are for social injustice?  Isn't it only logical that if you show disrespect toward a nation or person you do so because of some animus toward either one. Can you show your disrespect toward another person because you're against animal cruelty? If Marshall is protesting against "social injustice" wouldn't it have been more effective if he took a knee during some plays on the field?
If you disrespect the American flag then it must be because you feel it represents something you do not like. At least Kaepernick had the courage to say: "I am not going to stand up to show pride in a flag for a country that oppresses black people and people of color, . . . "  Jeremy Lane a player on the NFL team called the Seahawks sat during the anthem. He said  he was supporting Kaepernick and: "he was protesting police treatment of African-Americans as well as oppression of people of color."
The protests will continue. A different Brandon Marshall (who ever knew there were two?) who plays for the team called the Jets gave a hint of his future action in a rambling speech earlier this week. He spoke about how Martin Luther King led the civil rights movement and now another civil rights movement is coming.
The pressure is on the players to decide who they respect more: Colin Kaepernick or America. Now there is talk that all the Seattle team will all show their disrespect for the flag on September 11.  Why is it that date rings a bell?
I understand these people in America have the right to express their opinions. I do not have to respect them for doing it. If a goon wants to do or say something derogatory toward a member of my family that his right. Do I have to respect the goon while respecting his right?  I think not. Do I have to respect those who show their disrespect for my country's flag? I think not.
An NFL player on the NFL playing field has only those rights the NFL give to him. His differs from yours. You cannot go onto that stage. Like with a parade the owner of the forum controls the speech. An NFL player's actions are controlled by the NFL. The NFL in not stopping this showing of disrespect is promoting it.
Some suggest I am making a too big thing out of this. I don't think I am. I happen to believe that it is important to show great respect for America by honoring the flag during the national anthem. America is my home. It welcomed my ancestors. It has given me and millions others great freedoms. It is responsible for Europe's freedoms. It is the one nation that has fought to keep the world's tyrants from turning every nation into larger North Koreas.
It continues to be the land where oppressed people dream of coming to. It daily protects the freedom of the sea and air. If you do not respect our country despite all its faults, especially if you are a great beneficiary of it as are the owners of the NFL and all professional sports players, I do not respect you. If you allow others to do this then you do not deserve my respect.
Therefore I am puzzled by anyone who says he or she respects our country but then supports those who do not. This includes not only the players but the league which supports their disrespect. I understand many fear standing up against the NFL because it might interfere with their pleasures or obsessions. Sometimes, though, you have to make a stand and forego a little pleasure.