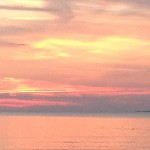 Mark Rossetti is back in the news. I'm not a twitter fan but it's the best way to get news from the courtroom about Bulger. If you're a twitterite, then put in #Bulger and you can follow it. Some of it is good, some pretty bad. A lot of self-promotion. I had to laugh at one that said something to someone else exactly what was said to me. Must be the standard line.
@project_marino tweeted "'Out of Control:' Senator blasts Boston FBI over mob informant.  He noted this site for a follow up. That's all about Senator Luger trying to find out why the FBI was using Rossetti as a top-level informant when he was also a Mafia capo suspected of murder. This is a repeat by the Boston FBI of what it did with Whitey and Stevie Flemmi. This is where we heard that an FBI agent was intercepted telling Rossetti that "my job is to keep you safe." Can you  imagine an FBI agent saying that is his job?
I've mentioned this before a few times jumping on Congressman Steve Lynch for not following up with the FBI on it. Lately another one of our local congressmen joined in. To Lynch's credit he filed legislation to require the FBI to notify local authorities if its informants murder someone, but that went nowhere.
Here we have at least two representatives and at least one senator in Congress asking the FBI what happened that they were using Rossetti. This is a simple question. It can all be decided by looking at the FBI Boston office, speaking to the FBI SAC, supervisor and agent, and offering an explanation as to why it was done. Is it really any more complicated than that?
This time, I guess because the inquiry came from a U.S. senator the FBI didn't say "no comment," it answered and told a lie. Here's what the article reported.
"The FBI in a statement said the internal review is still underway pending access to some state court documents. "The review consists of thousands of documents, interviews with those directly involved in the matter, including members of the Massachusetts State Police, FBI, district attorney's office and the U.S. Attorney's Office." "
It doesn't. The only involvement those outside the FBI have is they uncovered the scheme. All the documents are in the FBI files in Boston.  None of the others matter but are being thrown up as smoke screen to hide what it has done. There are no state documents that need to be accessed.
As for the FBI office in Boston, the one that is also hiding all the information relating to the Marathon Terrorist Attack, (MTA) FBI Headquarters says, as you'd expect: "FBI leadership has full confidence in FBI Boston management and employees."  They may have it but we don't having just sat through the Whitey Bulger  trial and seen how many people their informants and their friends have murdered.
Here's the frightening part of all this. The FBI is clearly lying about what it is doing. It is hiding what has happened in the events around the MTA and the homicide of Ibrahim Todashev. Yet members of Congress do nothing about it except to complain. If the FBI will not respond to these people what do you think of your chance of getting an answer.
You might think this stuff unimportant. Well take a gander at what is coming out of the Voice of Russia about Todashev. What the FBI does at home reflects on the country in foreign lands.
Remember when we were complaining about the Pakistani government not knowing Osama bin Laden was hiding in its country and how the Pakistani ambassador replied something to the effect that the US should try to find Whitey Bulger before it criticizes Pakistan. (Lo and behold he was found shortly after that.) Well I'm sure when we chastise the Russian for giving Snowden asylum they come back at us and ask us how do we let Russian citizens like Todashev get killed by FBI agents on our shores and hide what happened.
It seems the first draft of the Todashev report has been released probably because of Russia's telling us to tend to our own house first. The Florida state's attorney Jeff Ashton has it in hand and is reading it. I can't figure what that's all about, since when does the FBI have to run anything by a state's attorney. Ashton can't say how long it'll take him to read it. He better be careful not to hold it too long or the FBI will blame him for any delays.
J. Edgar Hoover the master of the Big Lie would never have thought that his methods followed by lesser people would openly disclose that the FBI's M.O. when dealing with the American people is to tell the big lie.