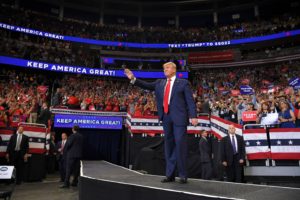 On Wednesday Bill Cassidy a U.S. Republican senator from Louisiana who is also a medical doctor was asked about him not referring to the coronavirus in the same way that Trump refers to it by calling it the Chinese Virus. Cassidy a Trump supporter did not comment specifically on Trump's use of that term but instead said that he was interested in not causing any trouble with the Chinese who object to that term being used. He noted that the Chinese scientists and medical profession have been very cooperative with the Americans. He said their cooperating is necessary if America is to win the war against the virus which is a world-wide problem and requires world-wide cooperation.
I can only think of the story of Voltaire who was on his death-bed. A Jesuit priest came in to give him the Last Rites. He asked Voltaire: "Do you denounce the Devil and all his disciples." Voltaire replied, "Father, now is not the time to make new enemies."
Someone should tell Trump now is not the time to be a macho man and get China upset no matter what the reason. When Trump was asked about it on Wednesday he doubled down on it. A photograph of his planned speech came out showing he crossed out the word "coronavirus" and wrote above it "Chinese."
Why it is like this with him to try to retaliate even if it may hurt America down the line? Can't he let something go? Is this the time to make enemies or to work together?
Trump said he is calling it the Chinese Virus because some Chinese authority said the virus was  brought to Wuhan, China by American soldiers. He should have dug a little deeper to learn why that was said. If he did he'd see the guy who may be the source of that official's statement is his friend Putin. It is reported: "Russian media sources suggest the novel disease, provisionally known as 2019-nCoV, could be an American made bio-weapon designed to sabotage China.The claims have had significant airtime on mainstream Russian media and could be part of Vladimir Putin's efforts to discredit U.S interests in the region."
We know that is just another Russian big lie but it is something that could play well in Russia and China.  The article mentioned noted:  "Vladimir Zhirinovsky, the leader of the Liberal Democratic Party and a popular veteran politician, told Moscow radio that Americans were "surely" behind the outbreak. He suggested pharmacists were gaining billions while the U.S. military reaped an "opportunity to test" weaponizing the virus."
Now is not the time for America to think it can go at it alone. The conclusion of the medical profession and scientists is that we need all the information we can get about how the virus acts from those who are ahead of us in being affected by it. We need to work with them in developing drugs that work against it. That is the only way we can get in front of it. That was reaffirmed Thursday by the head of the FDA.
I've been told I am not lining  up behind the president in this time of crisis; I'm told we should all unite together in support of him. Is this to be done when he's doing things that will set back our efforts? Seriously, we must speak out when things are obviously wrong.  Don't you think? Or do you think it is wise to  get the Chinese mad at us during this crises when we need their assistance and knowledge.
How do you line up behind a president who seems more concerned about himself than the people?  Remember the cruise ship stranded of the California coast. Was Trump concerned about the American passengers? He told us he'd prefer the ship not dock because it would increase the number of cases in America. He said: "because I like the numbers being where they are." Is that leadership or just plain dumb? If he knew as he now says that there was a pandemic before everyone else why would he not know there was no way the numbers were not going to skyrocket.
I voted for Obama twice and  frequently criticized his leadership especially in Syria and Ukraine. Just because I liked the guy didn't mean I should refrain from calling out what I believed were his mistakes.  Somehow the Trump Team wants to silence criticism of Trump as unpatriotic when it is the most patriotic duty of an American.
Let's work with the Chinese. We are all allies in this war.