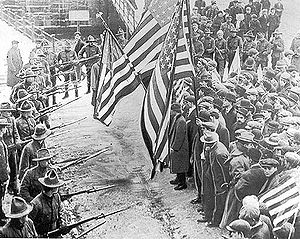 On occasion I would read something about the union organizing at the Amazon plant in Alabama and scratch my head and wonder: "Don't these folk know about the history of union organizing in America?"
About the time the vote got underway Bernie Sanders showed up. If you knew American labor history you would think Jeff Bezos the owner of Amazon paid him to do this.  Bernie's message was: "The reason that Amazon is putting so much energy to try to defeat you is they know that if you succeed here, it will spread all over this country."  
Now there are two things that immediately stand out about Bernie's  visit and his message. First, Bernie is looked upon by most Americans as being very close to a Socialist. He calls himself a "democrat socialist." He fools no one. He does it because he knows running on the Socialist ticket he has no chance of getting elected. The Democrats foolishly let him into their tent.
Next, the workers at the Amazon warehouse in Alabama are not interested in spreading a message all over the country. They are interested in keeping their present job. Little is accomplished if you wave the union flag if you do not have a job yourself. Like politics, all union organizing is local.
Now to top off Bernie, another perceived Socialist, Elizabeth "Free Things" Warren, came into the picture. Amazon picked on her which caused her to take the bait and respond in a tweet: "But you bet I'll fight to make you pay your fair share. And fight your union-busting. And fight to break up Big Tech so you're not powerful enough to heckle senators with snotty tweets."  (my emphasis)
Warren suggests it is all right if Amazon heckles others like the workers at the plant with "snotty tweets" but not her, a U.S. senator.  Any worker reading this figured she was not interested in them but in stopping senators from being heckled. She put herself in some special category which is clearly not that of the everyday workers at Amazon.
Bernie's message reflects that of The World Socialist Web Site that states: "The building of rank-and-file committees to fight the sacrifice of lives to corporate profit must be combined with the building of a powerful political movement for socialism and the reorganization of economic and political life to meet the needs of the working class around the world." 
President Stuart Appelbaum  of the RWDSU union which sought to represent the workers "is an officer of two global union federations." Its web site noted: "Workers around the world are standing shoulder to shoulder with workers in Bessemer, Alabama"
When unions started organizing in the late 19th century and into the first part of the 20th century the industrialists labeled them as Socialists and Anarchists. Many were immigrants from Eastern Europe who were such. That they were turned the American people against them. Some labor union leaders recognized that those folk in their organization hurt their movement.
Samuel Gompers recognized this when he founded the American Federation of Labor which has lasted to this date where he specifically declared he was against Socialists of all kinds. Gompers in 1902 said he has read their words on economics, studied their philosophy, and closely associated with them for thirty years.  He concluded:  "I declare to you I am not only at variance  with your doctrines but with your philosophy,. Economically you are unsound; socially you are wrong; you are an impossibility."
John Mitchell the president of the United Mine Workers (UMW) also felt the same. He said in 1902:  "I am not a Socialist, and do not believe in Socialism. I do not believe it would be best for the State to own and operate her coal mines. I am a strict trade-unionist. I believe in progress slowly,—by evolution rather than by revolution."
He knew, as did Gompers, the unions could not win without the support of the people. Both knew the people would never support Socialists. This was later shown in 1905. The International Workers of the World Union (IWW), also known as the Wobblies, was established. It drew its inspiration from the Russian workers. Its leader Big Bill Haywood favored direct action (violence) over political action. It reached it apex in 1912 with the Lawrence Textile Mill strike. By 1923 Haywood had fled to the Soviet Union where he died and the Wobblies barely survived on life support.
Unions won in the past by rejecting Socialism. To win today  the Socialists or those perceived to be Socialists must stay away.  It is too bad they ruined the chances for the union at Amazon.