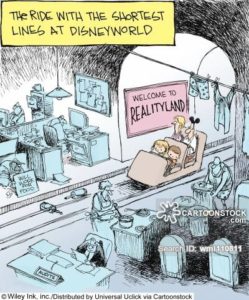 The United States has not had a person anything like Trump in the president's seat.  Those who think he is another Reagan are deluding themselves. Reagan had a history of political involvement and looked upon America as a force of good in the world suggesting we were an example for the rest of the world – the Puritan "city on a hill" which God allowed to exist for the betterment of mankind and which He would rain down His fury should we not follow his commandments.
Trump has no prior public service. Worse he has never shown a concern for other than himself and he looks inward to the country not thinking that it should be an example to the world but a nation like those of the worst that exist run by dictators interested only in what it can greedily grab.
In your wildest dreams you could never imagine Donald Trump telling Khruschev to tear down the East Berlin Wall. Think of that. Reagan cared for the people imprisoned behind the Soviet wall where Trump has not manifested any interest in any others beyond our borders and even within our nation it will turn out that it is for a limited few.
Reagan was part of a traditional approach to America's role in the world, Trump is unique not caring about freedom or liberty of others.
These early days after the election Trump has done two things that are so out of the normal that all the bad things said about him are truly reinforced so that perhaps it may be an astonishing to say they underestimated how tragic his election is. These two things aren't imaginings of his enemies but acts you can not deny are happening.
Be true to yourself and ask whether these are what you would expect from any person who was within sixty days of being sworn in as president. Go on and think what kind of person would do them and how much does it show a man with a serious problem.
The first and to me the most scariest is his impetuous use of tweets. Why would he be using Twitter at this time? The campaign is over. Why is he still attacking people publicly and personally?
Worse, still, the tweets are irrational. He condemns Hillary for questioning the results of the election when he all along said he would do it if he lost. What is wrong with him claiming he won the popular vote and that millions of illegal votes were cast for Hillary when we know none of that happened.
How thin-skinned is he? How quickly does his public magnanimity (Hillary suffered enough) turn into private bile (engaged in a scam)?
Remember he is 70 years old and he will not change. Do we need someone so erratic controlling our nation?
Then there's the second thing. He has no experience in government and less so in foreign affairs. America spend many billions of dollars annually in developing intelligence information concerning the happenings in the world in order to keep us safe and determine the identity of threats to us. He has no interest in being briefed on these matters. He has somehow decided he knows better or need not know these things.
He has told us he is too busy to read books. Now we are to understand he is too busy to be briefed by our intelligence agencies. But he is not to busy to engage in the puerile pursuit of tawdry tweets. That is something that scares me.