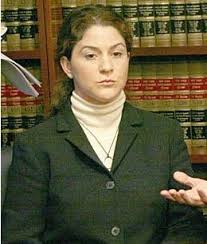 I was not a big fan of O'Reilly. If I said I watched him for a few minutes once every month or so I would be exaggerating. Whenever I did it seemed he would have Bernie Goldberg echoing whatever he said; then he had a comedian Dennis Miller who like Bernie would agree with Bill. Other than those two all I recall about the show is attractive women were the main people with whom he engaged in discussions.
I figured out the people were going to be on his show they had to agree with him. If they were women in addition they had to be good-looking. Most seemed to be blondes although not like the ones who were sitting on Dorchester Heights and wondering about distances while looking at the moon.
I looked upon O'Reilly as one of those old guys who enjoys having young attractive women around him. It makes them feel like a lady's man. I assumed the women knew they were in that position because of their looks. It helped that most seemed to have  some smarts but that wasn't required; rather, it might have been a detriment to some because Bill did not like to be contradicted.
I had forgotten Miller's name. I remembered that he and the comedian would tour together. I Googled Bill O'Reilly's Tour and that is how I found it. I wondered if the tour will continue after the fall but saw that they are selling tickets for June, September and December events. If you want to catch up with them in Westbury, NY, on Saturday, June 17 at 3:00 pm you can buy a ticket for $603 all the way down to $160 unless as his site reports that is all sold out. At other venues later in the year the expensive VIP seats are sold out.
As to what happens at the show, here's a report of one that took place at Devos (why is that name familiar) Hall in Grand Rapids, Michigan. O'Reilly and Miller talk politics by slamming liberals and telling semi-off color stories and jokes demeaning foreigners. People are apparently willing to pay big money to have their prejudices reinforced.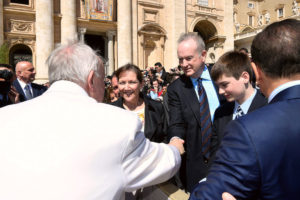 O'Reilly who was in Rome shaking hands with the Pope put on his site a statement regarding his departure.  He wrote: "It is tremendously disheartening that we part ways due to completely unfounded claims. But that is the unfortunate reality many of us in the public eye must live with today." 
I suppose it must come as a shock that the guy spent an awful lot of money (millions) in settling claims yet wants to pretend he paid the money for other than to hide the allegations made by the women against him. I understand he wants to save face but I thought he ran a program called "the no spin zone." Sort of funny that O'Reilly who was the first one to point out where there is smoke there must be fire but in his case he wants to suggest the smoke is connected with mirrors.
His "unfortunate reality" statement rings hollow. His assertion that claims against those in the public eye are faced by many is false. Very few men on televisions have faced them.
O'Reilly got himself in a real jam with Andrea Mackris (shown above). Her interaction with O'Reilly is set out in an article that started, "O'Reilly has been quick to attack those over the years he believed were morally wrong. Whether it was Bill Clinton, Janet Jackson, R. Kelly, Beyoncé and others, there was O'Reilly standing up for morality, religion and all else that is good. On that one can say to some degree that Bill O'Reilly is a hypocrite if you believe what was alleged by a female Fox employee."
When Mackris first spoke out O'Reilly denied the charges calling them unfounded. Two weeks later the case was settled for 9 million dollars because Mackris had recorded her conversations with him. Other cases have been settled and other women have come forward with other complaints against him.
Financially O'Reilly's done well. His kiss on leaving Fox will be in the millions. His books will be swapped at Christmas. He will never lack for money. The irony of his toppling is that it came at the peak of his power having just put his friend into the Oval Office.
The question that comes now is what next? His ego is not such that he can walk away from the limelight.  In that case we can be sure Bill will try to go on and on. These tours or his books will not satisfy him. Will he want to get back on TV. Will he join the ancient Larry King on RT? Surely the president can line that job up for him.
I think he'll find that having damaged his reputation, fairly or unfairly, he will be like the band in movie Spinal Tap or like McCarthy's old soldier. The numbers of his followers will diminish; he'll just realize what it is like to be treated like yesterday's newspaper.  If he asked me I'd tell him he had his one run and now he's done so he should just sit in ease and watch the sun set. He'll never get back what he lost.