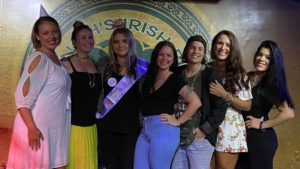 Before, some of the States wanted to change the name. They went to war to do it. It was a little more than that because they also sought to have a new nation for themselves. Not happy with the word united, they wanted to be confederated. That is another word for united or for banding together. We saw how that worked out. There were 600,000 deaths before that matter was settled.
That was over 160 years ago but for many the desire still lingers for the separation and name change. We know how much people rue or celebrate old events. If we forget we will be reminded of that next month when the hundreds of Orange Parades take place in Northern Ireland, mostly on July 12th, which celebrated the 1690 victory of William of Orange at the battle of Boyne.
Now the proposal is to change the name of the country without having such a big war. Rather than using the word united, we will now call the country the Independent States of America. In truth, that is what we became since the beginning of this year when we were first attacked. If you want good reasons to change the name there are right now 116,130 people who if they could would raise their hands giving us the reason. They can not raise their hands They are dead.
Most need not have been killed by Covid-19. They would not have been if we had a leader who would have acted like an adult and taken command. Unfortunately, that did not happen.
That leader passed the buck to the governors of each state. There were no national mandates. In some states people were told to do one thing, in another they were asked to do some things, and in another they were left to do whatever they wanted. That might be all right if each state had control over its borders but that does not exist. If one state has no restrictions and the adjoining state has none there is nothing that prevent people from traveling between the states defeating the purpose of the restrictions.
We know it is important to wear masks. The doctors at the center in charge of health recommended it. The person in charge recommended it. But it was not mandated. It is important to keep social distancing. It too was recommended by these people but was not mandated. Unlike New Zealand or Greece or other countries with real leaders where these mandatory steps were required, the independent states could do what they wished.
The leader of the I.S.A. recently proclaimed: "Don't forget, we have more cases than anybody in the world. But why? We do more testing. When you test, you have a case. When you test, you find something is wrong with people. If we didn't do any testing we would have very few cases. They don't want to write that. It's just common sense."
Will this leader next say: "We have more deaths than anybody in the world. But why? We count the dead by issuing death certificates. If we didn't count the deaths we would have very few deaths. They don't want to write that. It's just common sense."
We also heard this person say that he did not take responsibility for things that went wrong or are going wrong. He puts it on the governors as well he should if they are the leaders of the independent states. The bottom line though is in this most advanced countries we are doing a horrible job fighting back against Covid-19 and we are abetted by the leader who encourages and urges unsafe practices.
Just in case you think we are over the hump, I read the words of Erika Crisp  a 40-year-old health care worker from Jacksonville, who after months of quarantining said she regrets going out for the first time with friends to Lynch's Irish Pub in Jacksonville Beach, Florida. Up to that time she and her friends had been careful with social distancing and had stayed indoors for months "doing everything the right way." 
She said: "I think we were careless and we went out into a public place when we should not have. And we were not wearing masks. I think we had a whole 'Out of sight, out of mind' mentality. The state opens back up and said everybody was fine, so we took advantage of that."  She went on: "We should be wearing masks. We should be social distancing. It was too soon to open everything back up." 
She's been sick for eight days, and 15 of her friends have also tested positive for COVID-19. It was not only her, seven of 49 Lynch's employees tested positive.
That we have a leader who is incapable of leading we might as well be independent.