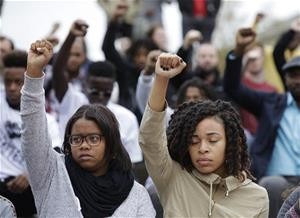 I'm sure you know this. The University of Missouri football players decided they would strike this week unless the president of their university, Timothy M. Wolfe, resigned.  There had been protests on the Missouri  University campus that the president wasn't sufficiently –   I'm not really certain what he wasn't doing right but let's skip that for a moment.
Last year the chairman of the Board of Curators which runs the university praised Wolfe and noted after the Board voted to extend Wolfe's contract to 2018. "President Wolfe has thoughtfully transformed our strategic planning process in a way that focuses our limited resources on priorities while reducing or eliminating waste and redundancies,"
What happened that caused such a change that he was tossed out the door?
President Wolfe in his resignation told us: "It is my belief we stopped listening to each other. We have to respect each other enough to stop yelling at each other and start listening, and quit intimidating each other. I take full responsibility for this frustration, and I take full responsibility for the inaction that has occurred."
I suppose if you translate that it means the football game must go on at all costs. Missouri is schedule to play BYU this Saturday and it is said that if they don't field a team then they will forfeit one million dollars.
This is pretty serious stuff having a football team take down the president of a university. You would think he must have done something pretty drastic for that to happen. His statement did not tell us what he did. Was it because he stopped listening? Did he yell too much? Was he intimidating others?
When I read his resignation statement that seems to be the case.  But then he concludes by saying he accepts responsibility for the "inaction." Yelling and intimidating are not inaction. Or, is he saying, that others were not listening, and were yelling and intimidating and he did nothing about it? I'm really confused.
Reading more I find that one black student was on a hunger strike because of racism on the campus. Other black students complained about it. Specific examples of it seem to be lacking. I guess it was just a feeling the black students had. Even so, up until the football team threatened to strike no one seemed to care

It should be noted that the football coach Gary Pinkel supported the players demand. In 2014 his compensation was $3.4 million. When his team went to the conference title game he received a contract extension and a raise to more than $3.75 million for this year and 4.1 for next year. In 2014 he got bonuses of $900.000.   (The president's pay is about half of his bonus.)
Ponkel's caving to his players is disgraceful No wonder this year Pinkel's  team has a record of 4 wins and 5 losses. His team ranks 127 out of 127 Division 1 football teams in scoring. They are even below pathetic BC which is at 118. (Hope BC's coach doesn't demand equal pay for equal performance.)
How ironic Pinkel is demanding the president resign. He should look in the mirror and figure the university would be better off if he did. How can a coach possibly support players who plan to strike against the university's administration? What lesson does that teach? The young lads should have been told if they don't show up they are jeopardize their positions on the team. Otherwise, you have the tiny tail wagging the Great Dane.
I find all that is happening quite intriguing. Those who demanded and secured the president's resignation pointed to nothing specific but an atmosphere of racism. They are demanding that something, quite unspecified, be done about that. Some suggest that the riots in Ferguson made them aware of the racist atmosphere. The situation is quite amorphous and to be blunt, weird.
Yet I have to say I love it. It tells a lot about America's schools of higher education where the football players can demand that the president resign and he does even though his offense seems to be not taking the unknown action that some demanded. Think on that a second. Football players pointing to nothing specific have ousted a university president.
When Japan attacked America at Pearl Harbor one Japanese admiral said it was a big mistake since they had awakened the sleeping giant. We must wait and see if the Missouri football players will also awaken the sleeping giant which in this case is the power of the football players to dictate university leadership. Sit back and enjoy the ride.