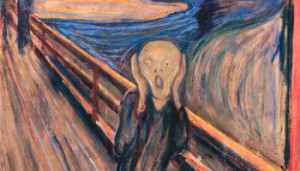 Apologies to Tennessee Ernie Ford's Lyrics to 16 Tons
You fight 16 years and what do you get,
Another day older and deeper in debt                         
St. Peter please help us 'cause you want to know,
The generals plan to continue the show.
The President Trump says we are going to fight on to victory.
The Secretary of State Tillerson says we are not going to achieve victory but we're going to fight on because we want the Taliban to know they will not achieve victory.
The generals say we're going to . . . .
We really don't know what the generals say. Why would we listen to them anyway They've had 16 years to figure out what to do and they haven't. Right now it looks like they are losing. Why would one believe that they could do things better now than they have done before?
Anyone who lived through the Vietnam War remembers how the generals were always telling us the solution was right around the corner. Was it Westmoreland who saw the light at the end of the tunnel? Little did he know, or at least he didn't say, the light he saw was the headlight on a North Vietnamese/Viet Cong freight train barreling down the track. As it roared along we'd have 58,000 plus American names to put on the Vietnam Wall in DC.
Has anyone a good explanation why we think a few more trillion dollars and the continuing American presence for a few more years is going to make a difference especially when we now seem to be conceding we cannot win? It's widely reported 4,000 more troops are going there but the true figure may be 10,000 or more. Are we staying like we did in Vietnam because the president does not want to lose his reputation as a tough guy and would prefer American troops lose their lives?
An expert on Fox News explained that we want to stay In Afghanistan so we can park a trailer there to watch Pakistan. He said we have to do that to prevent Pakistan from getting nuclear weapons. Sadly, this expert had no idea it already has had them for many years. I suppose that lie is as good as any other that can be conjured up when we are asked why we are staying there. It is along the line of Trump seeing "gold in them there hills" in the minerals they contain or Tillerson seeing great profit for Exxon in a trans-Afghanistan pipeline.
Some Afghans now opposing us as members of the Taliban were not even born at the time we first invaded their country. Every year more and more babies are born who will grow up to hate the invaders. Yes, that is what we are no matter the goodness of our intentions. We're foreigners to most of the people living there. We don't speak their language; we don't practice their religion; we have nothing in common.
Why don't Americans wonder how we would feel if Afghan troops patrolled our country? if Afghan planes flew over our fields killing Americans.? If Afghan money was used to prop up our leaders?
We invaded Afghanistan if you remember because it was where Osama bin Laden and others associated with 9/11 had been given shelter. It was where the attack against us was planned. We demanded Obama and al Qaeda leaders be handed over. The Taliban, a brutal group if ever one  existed, refused and we went to war against them.
We've lost over 2,400 American troops in doing it. We did succeed in defeating the Taliban and freeing up the Afghan people from their barbarities. We had up to 100,000 troops there to do it. We poured money into it as if money was sand.  We won. In our naïve exceptionalism we thought the old adage that Afghanistan is the Graveyard of Empires did not apply to us. Now we know it does.
So where did it get us. No longer willing to keep sufficient forces there we decided we would withdraw after we trained up the Afghan Army to fight for its own country. Again those who recall Vietnam will remember how we trained the South Vietnam Army to fight for its country. As in South Vietnam we found those we trained in Afghanistan were incapable of doing what they were trained to do
Today  we learn the Russians have been arming the Taliban according to the American general in charge in Afghanistan. How long and how much aid I haven't heard but why would it be surprising: didn't Russia aid North Vietnam?  We also learned, if you read the article by Sarah Almukhtar in the NY Times about how much of Afghanistan is back under Taliban control: That area is much of the northern border and a huge swath of the center/south. "The Taliban are back in many parts of the country from which they had been purged . . . "
It would have taken a courageous president to say enough is enough. If the Afghan people want to be free they have to fight for it and earn it. We've spent 16 years training them to do so and what have we got: another day older and deeper in debt.