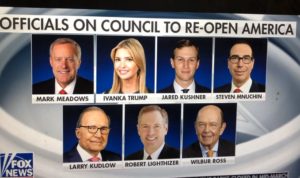 Breathe a big sigh of relief. Trump has brought together the most expert group in America he could find, the best and the brightest, to sit on the Council to Re-Open America. They will have the input to pass on to Trump who will decide when to re-open America to expose Americans to coronavirus when back at work.
From all the people in America he could have chosen, especially the scientific, medical and economic communities he has come up with people with no expertise in those critical areas. In other words he picked seven people who will echo what he wants to do and give no feed back to him. It's like picking a seven-person council and naming yourself to all the positions.
I know we will be fed the nonsense that they will consult with various experts here and there but don't you think it would be nice to cut out the middlemen with no experience and go with the experts in the first place. Why is it so difficult for Trump to find people who might have an independent opinion?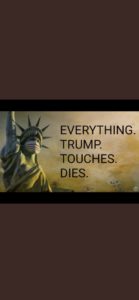 The Council is composed of six white men and the president's daughter. Hardly is it a representation of America or put together to reach out to all of America. No blacks or Hispanics but only Trump white folk.
The most laughable part of this is there will be the usual Trump folk telling us what a genius decision this turned out to be. They'll probably tell us everyone else he could have chosen belongs to the Deep State so the only people left in America who he could rely on were these seven.
So who are these folk. Trump's daughter Ivanka whose claim to fame seems to be her ability to get patents in China that no one else could get  since Trump became president. Or as one magazine put it that she has had: "a failed clothing line, . . . an inability to obtain a top security clearance without President Daddy  demanding it, and a grasp of the current situation so strong that she thinks quarantined parents have time to take up new instruments and brush up on Greek and Roman mythology."
The there's son-in-law Jared of Middle East fame who proposed a peace deal between the Israelis and Palestinians which was laughed at throughout the world. Add to that his twenty odd attempts to file a financial disclosure form, his inability to get a top-secret clearance, overpaying for an aging skyscraper that the Arabs bailed him out on, being a well know slum lord, and covering up with his friend Mohammed Bin Salman the murder of Jamal Khashogi. Clearly he is qualified for the position.
The we have Mark Meadows who advertised himself as having received a a bachelor of arts from the University of South Florida in Tampa. Well, it turned out that really never happened. He got an associate degree. What's the big deal? It's only a letter difference. One's a BA and the other is a AA.
Then there's Larry Kudlow, the twice divorced 72 year older;  Steve Mnuchin, the twice divorced 57-year older with a net worth of 300 million,  Robert LIghthizer , 72 who has two children but no known wife and whose "net worth was valued at around $18 Million before becoming the Trade Representative. But now it is worth around $46.1 Million after being involved with the government."  I didn't know government work paid so well. Finally Wilbur Ross, 82 years old net worth 600 million.
There may be others but these are the main parties that we know about at this time. Trump being a man of his word said when he announced he was going to have this group said: ""We're going to have the great business leaders, great doctors. We're going to have a great group of people, . . . " Did anyone see them?