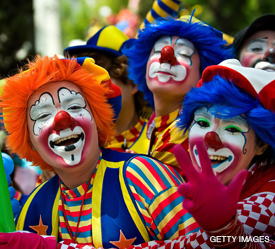 I suppose you have heard of D. Trump's astounding victory in the electoral college. He even mentioned it during his press conference with his latest best friend Benji or is it Bibi. He again mentioned it yesterday. He said something to the effect that it was the most electoral college votes since Reagan. Of course that was another lie. Bush and Obama and who knows who else had higher vote counts than he.  When confronted with his lie, or as some suggest mistatement, he mumbled that he was saying it "because that was what he was told."
"Aha!" I said. "So that's what Kellyanne Wrongway meant when she talked about alternative facts." There's the truth and there is what you have been told. The latter remains the truth until someone tells you something different. That explains much of what D. Trump has been telling us. It also helps us understand his statement yesterday that the reports on the leaks are true but are still fake news.
Pity poor "Outlike Flynn." A wonderful man who was undermined by fake news which apparently D. Trump believed. He was fired because he dissembled to the vice president even though it was the fake news that undermined him
You see how all this works now. D. Trump believes what he is told. So we are supposed to believe whatever he tells us. In this case Outlike was fired because of fake news which was true but was not fired because of that but for something to do with the VP.
Fortunately we were told that D. Trump had another waiting in the wings to take his place. He had actually found a well-qualified person who was universally praised. Sadly, that person after seeing the way the alternative presidency operates wanted to be involved in no part of betraying his principles or country in joining this Russian lovefest. What's to become of a nation when it's best refuse to serve?
The strange thing is that he was a close buddy of Mad Hog. You have to believe the Mad One warned him away. And I know you heard how the Mad One spoke at NATO saying if the nations in that group did not pay their fair share we may reduce our commitment. I'm not sure how that will work. If Russia attacks the Baltic nations we will only defend Lithuania, half of Latvia, and not Estonia.
I never heard how having committed to defend other nations you could then suggest you might not do it fully. You are either in or out. Pregnant or not. You can't be 80℅ pregnant. Maybe the Mad One had to spout the D. Trump talking points and he too is starting to feel a little uneasy in his position.
And what about Homeland Security Kelly. How good can he feel rounding up all these mothers and children and implementing the upcoming exclusion orders based on imaginary fears. You did hear of the six ICE cops arresting a woman, yes there were six needed for the operation, who showed up in court to get a domestic violence restraint order.
As D. Trump said he's got a fine running machine. I do however see some dire problems in the offing. I wonder how Abe feels having been replaced in this position of being D. Trump's best ever friend after only a couple of weeks by Bibi. Canada's Trudeau who came to town between them  never was accorded that special treatment. I've been told D.Trump was put off when Trudeau spoke, as D. Trump called it  "Creole" off and on during the press conference. I'd suggest Prime Minister Netanyahu not get too comfortable being Trump's best ever friend since Vlady is still lurking out there.
You have got to admit each day you wake up now, you think as Ed Sullivan would say, "we're going to have a great show today." The D. Trump act came to town at the same time as the Barnum and Bailey Ringling Brothers circus left. It is good to know the three ring circus is not going away.